Description
The Palram – Canopia 13'x 15′ Monaco Hexagon Metal Garden Gazebo testifies to Palram's commitment to design and dependability in their outdoor enclosures.
With a fast and easy DIY set-up, this gazebo has a powder-coated aluminium frame that is corrosion-resistant and includes integrated rain gutters and roof vents. The six-millimetre polycarbonate panels are virtually unbreakable, block up to 99.9% of UV radiation, and won't yellow or become brittle over time. With an iconic look, this gazebo exemplifies the greatness you can expect from Palram.
The Palram – Canopia 13'x 15′ Monaco Hexagon Metal Garden Gazebo comprises of an aluminium frame in an elegant anthracite powder-coated finish, corrosion resistant and looks great in every garden setting. The product is not sold in Northern Ireland.
Robust structure-reinforced design with durable and corrosion resistant anthracite powder coated finish aluminium profiles and galvanized steel connectors; Virtually unbreakable, 100% UV protected 6 mm twin-wall polycarbonate panels -protect from harmful UV rays, hail and snow.
Features
Corrosion resistant
Anchor bolts included
Fast and easy DIY setup
10 Year limited warranty
Powder coated aluminium frame
Block up to 99.9% of UV radiation
Won't yellow or become brittle over time
Designed for year round weather conditions
Includes Integrated gutter system; laser cut galvanized steel connectors; top vent.
6 mm virtually unbreakable polycarbonate panels
Suitable to leave outside all year round.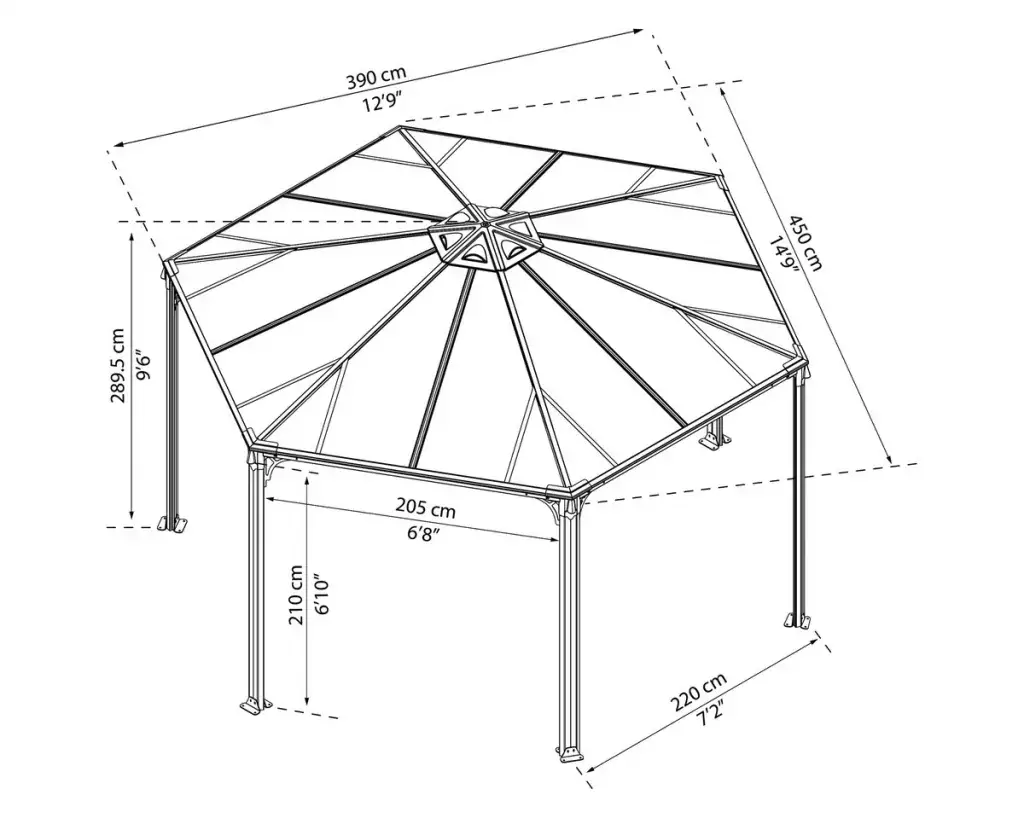 Base Options for Palram Gazebos
All Palram  Gazebos are advised to be Installed on a hard standing surface base area. Anchoring and foot-pads included Secure the carport to the surface of your choosing.
It is recommend that the gazebo should  be anchored to a flat and level concrete surface. Tarmac or other surfaces is not advised due to the anchoring bolts.
The gazebo needs to be anchored well and should be on cement footings.
Specifications
Length 450cm
Width 390cm
Height 289.5cm