Description
The Palram – Dallas 12'x 20′ 6100 Metal Garden Gazebo provides shade and shelter for your garden or pool area. The Dallas creates garden living space offers a sense of privacy and provides a shaded area to be utilized year-round.
Great for weddings, birthdays or any family get together or BBQ. This sturdy and durable gazebo is built to last. It comes with a 10 Year Warranty, has a rust resistant anthracite (dark grey) powder coated aluminium frame & virtually unbreakable polycarbonate roof panels. The roof panels are made to protect from the sun's harmful UV rays as well as snow and ice for many years of enjoyment.
Offering a solid and attractive shelter for barbeque and poolside situations. Designed for durability as well as elegance, this unit combines high quality aluminium extrusion and steel componentry powder coated in Anthracite Grey with virtually unbreakable grey opaque 6.00mm Twin-wall polycarbonate glazing which is UV-stabilised. The Dallas garden living space offers a sense of privacy and provides a shaded area to be utilized year-round.
Features
Maintenance free structure, can be anchored to any strong and flat surface
Virtually unbreakable 6 mm twin-wall polycarbonate roof panels are high impact and shatter resistant
Treated unique Grey opaque glazing – transmits natural sunlight on overcast cloudy days and provides plenty of shade on the lazy hazy days of summer
Withstand severe weather conditions – no need to remove panels during winter season
Decorative wind & smoke escarpment feature at the top of the gazebo for enhanced air flow
Rust-resistant structure
Sleek design
Maintains its integrity
Provides complete UV blockage, and is 100% UV protected
Does not discolour, fracture or become brittle over time
Sturdy, rust-resistant anthracite powder-coated frame made of heavy duty aluminium and laser cut galvanized steel connectors
Ready to assemble pre-drilled profiles; all screws included
Anchoring and foot-pads included
Structure can be relocated and anchored to any surface
Sturdy aluminium poles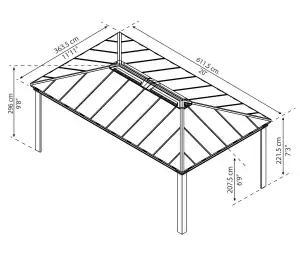 Base Options for Palram Gazebos
All Palram  Gazebos are advised to be Installed on a hard standing surface base area. Anchoring and foot-pads included Secure the carport to the surface of your choosing.
It is recommend that the gazebo should  be anchored to a flat and level concrete surface. Tarmac or other surfaces is not advised due to the anchoring bolts.
The gazebo needs to be anchored well and should be on cement footings.
Specifications
A Length 611.5cm
B Width 363cm
C Height 207.5cm
D Max Height 296cm