Description
Embrace the outdoors from the comfort of indoors with the Palram – Ledro 10'x 10′ 3000 Metal Enclosed Garden Gazebo.
This wonderful outdoor living space is designed to be enjoyed year-round; allowing you to spend more time relaxing, reading a good book, enjoying your spa, entertaining or simply enjoying your garden.
Crystal clear acrylic wall system allows unobstructed views while the virtually unbreakable bronze polycarbonate roof panels provide sufficient shading and block 100% of UV rays ensuring you stay comfortable.
Two double wide sliding doors can be assembled on any of the four sides allowing air flow and easy access.
In a weekend you will add true beauty and value to your home and garden and still have time to spare and enjoy your new, elegant room. This year round maintenance free structure is guaranteed to provide hours of enjoyment for years to come.
Built with tough polycarbonate panelling and an innovative sliding assembly system, this unit is great of any space. The aluminium frame provides a strong and sturdy base while the tough panelling is virtually unbreakable, resistant against discolouration, fracturing or shattering and block 100% of harmful UV rays.
The ideal piece for creating a comfortable spot to enjoy your garden. This building is perfect for making the most of your outdoor space.
Features
Highly durable elegant garden gazebo
Firm, rust-resistant, reinforced aluminium structure, engineered to withstand harsh weather conditions
Lifetime twin-wall bronze tinted polycarbonate roofing; does not turn yellow or become brittle over time
Proprietary screw-free glazing assembly system, specially developed to prevent rain/dew leaks
Large sliding doors allow enjoying the Ledro, as a half-open Gazebo or as a multi-purpose intimate pavilion
Fulfils many indoor purposes in the heart of your garden, any season: resting area, reading room, BB, canopy, garden office, party lounge, spa cabin
100% protection from harmful sunrays (UV) allows endless recreation time outdoor
Maintenance-free and built-to-last thanks to outstandingly durable materials
Made with 100% recyclable components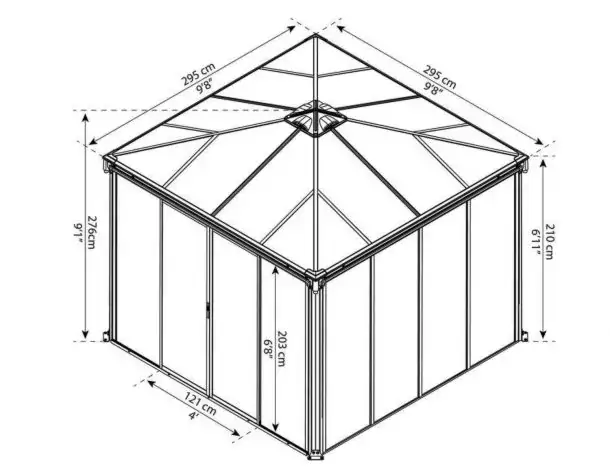 Base Options for Palram Gazebos
All Palram  Gazebos are advised to be Installed on a hard standing surface base area. Anchoring and foot-pads included Secure the carport to the surface of your choosing.
It is recommend that the gazebo should  be anchored to a flat and level concrete surface. Tarmac or other surfaces is not advised due to the anchoring bolts.
The gazebo needs to be anchored well and should be on cement footings.
Specifications
A Width 295cm
B Length 295cm
C Height 276cm
D Door width 121cm
E Door height 203cm