Description
Watch your little ones explore and run free with the Lifetime 66″ Climbing Dome – Mantis Green / Bronze.
The Lifetime Climbing Dome gives a good amount of height while maintaining durability due to it's heavy duty steel construction, ensuring that safety is the priority. This climbing dome is the perfect climbing frame to entertain your children safely in the comfort of your own garden. The climbing dome allows children a chance to let their imagination go wild, enjoying some active, outdoor fun be it playing by themselves, or with friends and family. Providing a space for kids to meet & hang out, the dome doesn't just allow space for climbing! Put some sheets over the top and the dome becomes a covered den where even more fun can take place.
Included is a 1-year factory warranty from Lifetime Products. All metal components of this structure are powder coated, which helps the metal resist rusting.
Your children and their friends will spend hours devising new games and scenarios on their new Lifetime Dome.
Features:
Age Range : Suitable for children ages 3-10
Green & Bronze colour scheme
Heavy-Duty Construction :Weather and rust-resistant powder-coated steel.
Strong Interactive Design : High-density polyethylene (HDPE) climbing grips.
Sturdy Secure-Fastened Assembly
1-Year Limited Warranty
Dimensions:
335cm x 168cm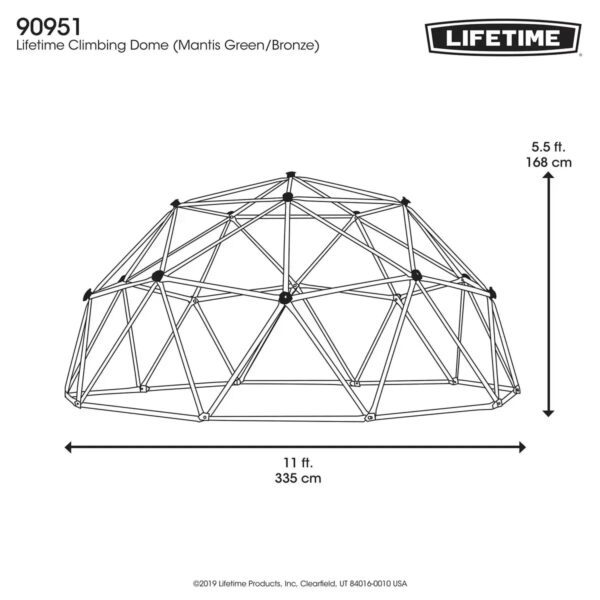 BASE REQUIREMENTS FOR BUILDINGS
All buildings must be anchored to a firm foundation to protect against wind damage.