Description
Soar through the skies and watch your little ones have the time of their life with the Lifetime 7′ Swing Playset – Earthtone . Enjoy hours of fun flying through the air as well as twisting on the trapeze like an acrobat. Featuring a free-standing design that doesn't require cement for setup, meaning you can get this up and running in no time. Constructed to be all-weather resistant and UV-resistant, meaning it survives against all the elements of the seasons will little maintenance needed. This low maintenance design keeps the swing set looking great without the need of paint. Watch your kids spend more time in the outdoors, in the comfort of their own garden.
Swing sets are a great way for them to stimulate physical and mental skills. It is healthy for our children to spend time outdoors to help boost their immune system and enjoy the pleasant outdoors. Our Lifetime 7′ Swing Playset – Earthtone is definitely one of the best options that you would consider. It is made from heavy-duty powder-coated steel construction to make sure that it will be built to last for years and provides a low-maintenance design that requires no sanding, painting, or staining. You don't need to worry about your child's safety since this swing passed the playground performance and safety standards. The swing set is weather-resistant thus it will not crack, warp, rot, or splinter in time.
For residential use only
Features:
Earthtone Design
1 Trapeze Bar and 2 Swings
All-Weather Resistant – Will Not Crack, Warp, Rot, or Splinter
Free-Standing – No Need for Cement
Hard Edges are Rounded or Covered with Plastic Caps
Low Maintenance – No Staining or Painting Required
No Lead-Based Material
Passes Playground Performance and Safety Standards
Soft Rubber Grips on Swing Chains to Prevent Pinching or Snagging
Trapeze Bar with Gym Rings
UV-Resistant – Retains Strength and Maintains Colour
Dimensions:
L 342.9 x W 292 H 223 cm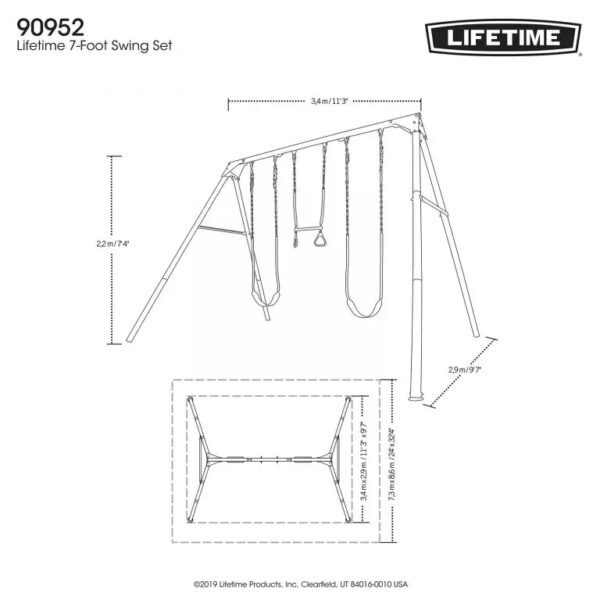 BASE REQUIREMENTS FOR BUILDINGS
All buildings must be anchored to a firm foundation to protect against wind damage.