Description
The Lifetime Teeter Totter Ace Flyer – Primary Colours will allow your children to soar to new heights of their imaginations. The Ace Flyer is the perfect garden toy to entertain children for hours with a holding capacity of 1-7 children at once and 2 teeter totters configured to suit different age groups. The Ace Flyer has a weight capacity of 600 lbs and is perfectly safe without pinch points or entrapments, with a wide base for stability.
The Ace Flyer Airplane Teeter Totter allows children to rock from side to side and up and down! The spinning wheel turns propeller so your aspiring young pilots feel like they're really in control. Designed with adjustable heights in three 1.5″ increments. The Ace Flyer Teeter Totter is constructed of powder-coated steel and high-density polyethylene (HDPE) plastic in bright, fun, primary colours.
For residential use only
Features:
Colourful red-yellow-blue design
Double-seat cockpit, double teeter-totters, spinning wheel, and propeller
Tail Teeter Totter
Wing Teeter Totter
Up, down, & Side to side movement
Interactive Dashboard with movable gauges
Weather Resistant
Commercial-grade powder-coated UV-Resistant Steel Frame
Blow moulded plastic seats, propeller and dashboard
Seats have UV inhibitors to protect against fading
Never needs painting
3 adjustable heights
1-year manufacturer warranty
Dimensions:
240cm long × 240cm wide × 89cm high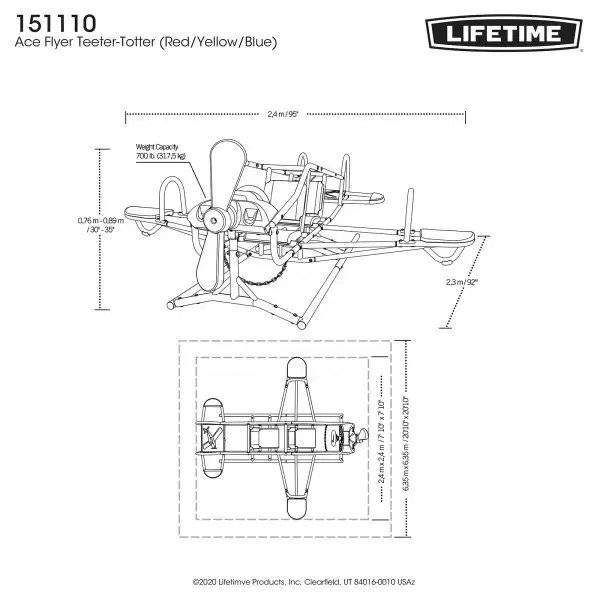 BASE REQUIREMENTS FOR BUILDINGS
All buildings must be anchored to a firm foundation to protect against wind damage.