Description
The Readymade – Horizontal Pedestrian Gate 900mmx2000mm Black or Grey is a fully boarded pedestrian gate with a horizontal solid infill and flat top, providing full privacy with a modern and streamlined design.
Full privacy is a great option to ensure the maximum protection of your property.
Available in 2 colours Black (RAL 9005) and Grey (RAL 7016).
Although aluminium is very strong, it is also lightweight which makes it a versatile material. This is perfect for the fabrication of gates compared to traditional metals such as; wrought iron, cast iron, wood or stainless steel.
Another advantage of the Readymade – Pedestrian Gate 900mmx2000mm is that it is very low maintenance. Aluminium is highly resistant to corrosion unlike other metals, it will not suffer from changing weather conditions and actually becomes stronger in low temperatures, perfect for UK buyers!
Supplied with 2 x Adjustable wall mounted hinges, 1 x Floor mounted hinge, (2) Gate handles, lock & keys, and full-length lock keep as standard.
In order to keep the gate looking brand new, simply wash down with soapy water and rinse. There is no special treatment required and the gates also have a 5 year manufacturer's guarantee.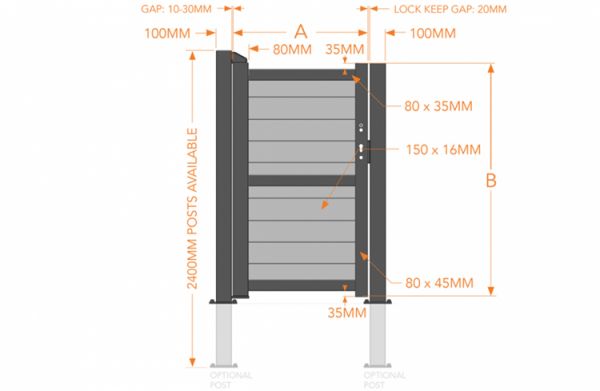 Specifications
Gate Width: Width A 90cm x Height B 200cm x Depth 3.5cm
This item is supplied with NO poles/posts as standard (posts are available as optional extras)
IMPORTANT : The Pedestrian Gate Sizes shown are the actual gate sizes. The overall gap required in which to install the gate, requires an additional +30mm allowance on the standard width of the gate, to accommodate the hinges & locks. The overall height required, needs to be a minimum of +100mm higher than the standard height of the gate, this will allow a 50mm space for the top hinge and an additional 50mm space for the bottom hinge. Please see attached installation documents.
Important: Please note, these are special order and therefore cannot be cancelled or returned after order placed. These are made by order.
Colours Available : Black or Grey (contact us should you require a different colour for a quote and availability)

Optional Pedestrian Posts
The gate is not supplied with posts. Optional Pedestrian posts are available and come in the following sizes:
Please ensure if you purchase your posts to select the correct size required!
Option 2 – 80x50x2400mm Surface/Sunken Pedestrian gate post
Option 4 – 80x50x2400mm Surface/Sunken Pedestrian gate receiver post
Option 6 – 80x50x2400mm Surface/Sunken Pedestrian gate post and receiver post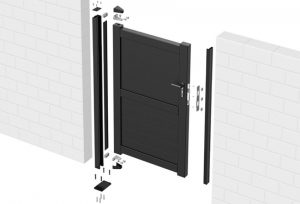 Optional Extras
As an alternative to our standard looking handles for our pedestrian gates, we are able to supply the Borg BL4409 keypad lock, high-quality robust option to high traffic areas, removing the need for keyed access.