Description
Give your chickens the freedom and comfort they crave plus the safety and security they need with PawHut Chicken Coop – Small.
It is coop, nesting box and outdoor run in one, giving your chicken room to roam, a place to roost and fresh outdoor air when they want. Start with the water-resistant roof in green asphalt composite material and work your way down to bottom pan which slides out easily to remove for cleaning. Security features include lockable sliding metal bolt doors and a premium galvanized wire run to protect animals from predators. Do more than just house your animals, provide them with the resources and opportunities!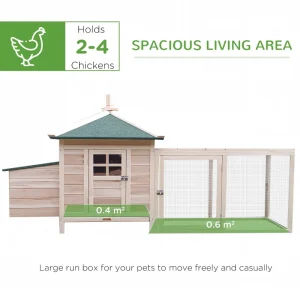 PERFECT OUTDOOR ADDITION: This rustic cottage design chicken pen kit with a safe waterproof paint is perfect chickens, ducks and any other small poultry in your backyard.
GOOD LIVING SPACE: A raised main house with a wire-fenced outdoor run, gives your chickens lots of room to rest and be active while preventing them from escaping. A chicken nesting box is included and can be easily opened to extract eggs.
CONVENIENT ACCESS: With multiple doors for easy access and cleaning, as well as a ramp allows your chickens to enter the raised housing area easily. The slide-out middle tray is easy to pull out for convenient and quick cleaning.
WOODEN CONSTRUCTION AND WEATHERPROOF: This backyard chicken coop is crafted from solid pine wood and steel wire for superior strength and durability. The roof is covered with asphalt for enhanced weather protection.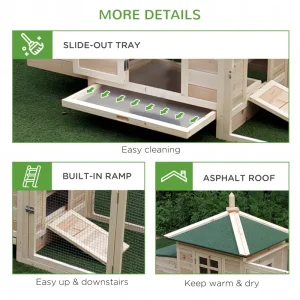 Features
Chicken coop, nesting box, run backyard all in one deluxe chicken coop
Weather resistant asphalt shingle roof provides long lasting weather protection
Heavy duty galvanized wire helps keep chickens in and predator out
Built-in slide out dropping tray make for easy cleaning
Lockable metal slide bolt on door for extra security
Hinged nesting house roof for easy extracting eggs
Opened Sliding access door worked as a ramp for easy entry and leave
Works great for chickens, ducks, other poultry or small animals
Assembly required with all necessary hardware included
Note: 2 grown chickens suggested. Buyer to determine the number of pets that will fit in the coop depending on breed and size.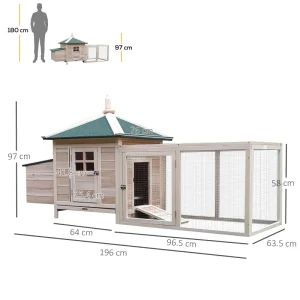 Specifications
Material: Pine Wood, Steel Wire
Overall Dimension: 196L x 76W x 97H cm
Living House Dimension: 64L x 64W x 97H cm
Run Box Dimension: 96.5L x 63.5W x 58H cm
Nest Box Dimension: 60.5L x 36.5W x 36.5H cm
Living House Door Size: 25.4W x 41.8H cm