Description
The perfect addition to any outdoor gathering is here with the Keter 85 Litre Patio Cooler and Beverage Cart.
An eye-catching centrepiece, that is sure to elevate any outdoor space, and is packed with host-friendly features for effortless entertaining.
The elegant wood-look EVOTECH panels give the classy look of wood while the frame has a unique cast-iron look, yet it is completely weather resistant and never needs any maintenance. Its design emphasizes versatility, with two strong fold-up side shelves, a convenient fold-down narrow shelf, a movable cooler bin divider that also functions as a tray, and ample lower-shelf storage. Add to that clever practical touches like a drainage system, bottle opener, and wheel locks you can unlatch without scuffing your shoes.
Add all these features and more together and you have a beverage cart that makes every gathering memorable by your guests and easy work for you as a host. The Keter Patio Bar Cooler is a perfect feature for your garden parties, summer barbeques or simple outdoor visits to the park or beach.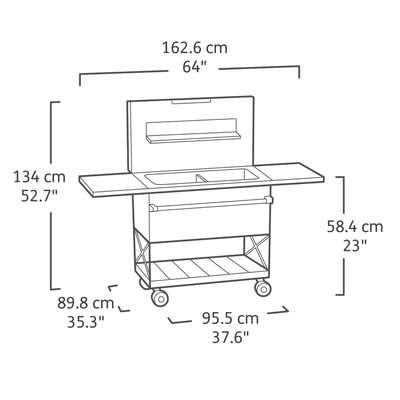 FEATURES
Ideal outdoor cooling storage solution, perfect for entertaining and outdoor gatherings
Keeps upto 120 canned drinks ice-cold and fresh with a spacious 85L chiller compartment
Attractive Evotech wood like texture with a unique frame that has a modern cast iron finish
Made of durable, weather-resistant and UV protected resin
ABOUT KETER PLASTIC SHEDS
Keter is the innovative global leader in consumer lifestyle solutions for in and around the home. Keter invents, builds, and brings to market an extensive range of patio furniture, indoor and outdoor storage solutions, tool storage systems, and household organization products. These products are known for their long-lasting durability, design, and functionality. Keter designs with the most innovative technologies and builds with sustainable materials, creating lifestyle products that enhance people's spaces, elevate their experiences, and last a lifetime. With products available in over 100 countries through leading retailers, Keter aims to contribute to the longevity of the natural environment by operating in a sustainable manner.
Keter produces long-term-use, resin-based products that are durable in all weather conditions and climates. The resin-based products are created into a variety of textures and finishes, including rattan look, knitted style, wood finish, brass, and copper finish, and more.
SPECIFICATIONS