Description
The full encircling skylight constructed from acrylic glass gives the Biohort – Panorama P2 9'x6'5″ Heavy Duty Metal Single Door Steel Shed – Metallic Dark Grey lightness in appearance and allows this model with its modern gable-roof to fit easily into its surroundings.
The proven Biohort quality of materials and workmanship together with the selection of individual equipment options and the range of sizes make the Panorama the perfect tool shed to meet your high demands.
The Panorama would make a great addition to any garden as it's perfect for storing all your garden items, keeping them neatly, tucked away.
Features Include
3-way locking mechanism with stainless steel door handle, standard cylinder and spare key
Door can be fitted into the sidewall (single door from size P2 onwards, double door from size P4 onwards)
Hot-dipped galvanized, polyamide coated steel plates. Screws and hinges made of stainless steel
Extremely stable and can withstand snow loads of up to 150 kg/m² storm proof (150 km/h, wind force 12)
Gas assisted spring dampers provide welcome assistance when opening and closing doors
All-round acrylic skylight provides sufficient light inside from all sides
Maintenance-free
Gutter with integrated leaf traps fitted to both sides
Extensive range of accessories included:
2 x Shelves – Allows for storage of loads up to 15kg, with a depth of 24.5cm. The shelves come with the shelf support rails
2 x Tool holders – Consists of a combination hook, a handle hook and a shovel hook on a wall rack, for slotting between 2 support rails
4 x Tool hangers – Can be used to store spades, rakes, hoses, and other tools
Note: This shed does not come supplied with a floor or floor frame as standard (these can be purchased as an optional extra)
Promotional Video
Specifications
Interior dimensions: H 220 x W 252 x D 172 cm
Exterior dimensions: H 227 x W 273 x D 198 cm
Interior headroom: 220 cm
Door opening: 76 cm
Snow load: 150kg/m²
Wind load: 150km/h
20 Year manufacturer's warranty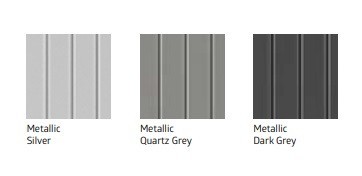 Base Options
All Biohort  Metal Sheds are advised to be Installed on a hard standing surface base area. A damp proof membrane (plastic sheet material) should be placed prior to installing your shed/base to limit condensation.
1. Existing Concrete Base or Slabbed Surface
All sheds should be anchored to a flat and level concrete surface with a damp proof membrane (not supplied).
All sheds must be anchored to the concrete base. Anchor Screws are available to purchase at an additional charge.
2. Timber Floor Option (Installation only option)
A Timber Floor Kit consists of a pressure treated timber base frame and pre-cut boards. The base frame is placed on top of the damp proof membrane (not supplied).
The boards then complete the base, also providing a timber floor for the shed. A Timber Floor Kit can be supplied at an additional charge and our installers will build it accordingly.
Timber Floors are NOT available for customers who don't take out our installation service.
3. EcoBase Fastfit Base Kit (Installation only option)
A EcoBase Fastfit Base Kit consists of strong, recycled plastic grids that click together and supplied with a sheet of weed resistant membrane.
The shed is then anchored to the base kit.
Rainwater drains through the grid cavities keeping the floor grid and ventilated.
ECOBASE FastFit Base Kits are NOT available for customers who don't take out our installation service.
4. Biohort Aluminium Floor Frame
With the aluminium floor frame, which is available as an accessory, the garden shed can be assembled on gravel without too much time and effort, and the anchors supplied can be firmly secured to the ground. To do this, approximately 10 cm of turf is removed and the area covered with a water-permeable construction fleece. The excavated area is then filled with gravel (2–4 mm grain size) and the layer of gravel is levelled.
4. Biohort Aluminium Floor Frame 
Elegant and functional high-quality aluminium chequered plate panel. The floor consists of 1 to 5 segments depending on the size of the shed, incl. connecting rails. The aluminium floor frame is necessary to ensure optimal fitting of the aluminium floor panels. Please note that the aluminium floor panel must be backed with a filler or XPS hard foam panels approx. 2-3 cm thick (not included).
Optional Extras
Rainwater Pipe
The rainwater downpipe set for your Biohort garden shed drains the rainwater from the roof. This will reduce washout of concrete slabs and above-average water accumulation during rainfall around the garden shed. The rainwater downpipe set for your garden shed contains two rainwater downpipes, each fitted with an outlet elbow to control the direction of the flow more efficiently. It is made from galvanised, polyamide enamel coated steel plate. The fixing material is supplied.
Bicycle Hanger
With the BikeMax bicycle hanger you can store bicycles up to 29″ in a space-saving way in your Biohort metal garden shed. The height of the hanging hook can also be set to 8 positions. In addition, a locking eyelet for bicycle locks is already integrated.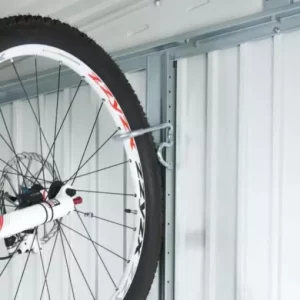 Bicycle Holder
Optimal storage of bicycles thanks to the adjustable retaining clamp
The base plate is hooked into two support rails (not included) in the garden sheds.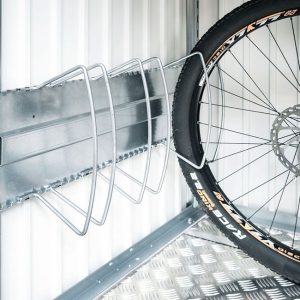 About Biohort Heavy Duty Sheds
  
Manufactured in Austria, Biohort's range of metal garden storage boxes and sheds are crafted from hot-dipped, galvanised steel. They're maintenance free and come with a 20 year guarantee.
Biohort garden sheds have proven their value in over 40 years of service. They use only high-quality materials purchased from west-European suppliers. This is why they can confidently offer you a 20 year guarantee against corrosion on all our products. Sophisticated designs combined with the highest standards of quality, which are applied during production to create products sure to provide decades of satisfaction. Biohort have everything from a simple storage box to the highest quality metal shed. The sheds are capable of having outdoor extensions and they even have a range of remarkable home office style buildings.