Description
The ultimate storage solution, the Hex Living Weston 4'x3′ Heavy Duty Metal Shed – Sage Green offers high quality and high security, making this stylish shed a feature for any garden.
Discreet yet functional, Hex Living Weston 4'x3′ Heavy Duty Horizontal Storage Shed – Sage Green is the perfect storage solution when space is limited. Ideal for smaller gardens, yards or terraces, it safely stores and protects items without encroaching on living space. Alternatively, it lends itself to a funky outdoor bar – decked out with your favourite drinks and cocktail glasses, the Weston needn't just be for your functional items!
Constructed from High Grade Corrosion Resistant Galvanised 0.6mm Thick Steel (EN10346) makes the shed maintenance free and comes complete with a lifetime guarantee against corrosion.
Whilst more compact than Hixon, the Weston features two outward opening doors that can be folded back to either 90 or 120 degrees allowing for easy access. Both interior door panels also feature a useful integrated organiser system ideal for hanging garden tools or other small objects – even outdoor lights. Internally, the Weston features two height adjustable shelves for convenient storage and two tool hangers to support larger items such as brooms or garden hoses.
Maintenance free, it's constructed from our heavy duty, rust resistant galvanised steel and of course comes with the Hex Living lifetime warranty.
Soft green enhanced by a contrasting deeper green is our sage colourway. Popular amongst garden-lovers looking for a modern, high-performance metal storage solution, yet blending perfectly with its surroundings.
Specifications
Base width: 1,450mm (4ft9).
Length: 850mm (2ft9).
Ridge height: 1,850mm (6ft).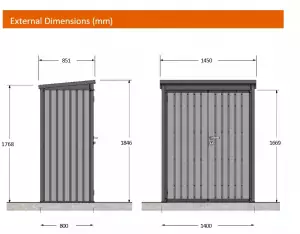 Colour of Shed
Nominal model sizes are based on the roof dimensions.
Please refer to the exact measurements for the precise building dimensions.
Features of the Hex Living Hixon Heavy Duty Shed
Ultimate Maintenance Free Heavy Duty Metal Shed
Modern design garden shed
Manufactured in the UK
Heavy Duty 0.6mm Galvanised Steel
Corrosion Resistant
Stainless Steel Fixings
Lifetime Warranty
Slip Resistant 9mm Phenolic Floor
2x gas strut assisted doors
Stainless Steel Lever Door Handle and Euro Mortice Lock
2x Galvanised Steel Tool Hangers
2x Internal Door Panels with Integrated Tool Hanging Facility
2x Height Adjustable Shelves
Ground Anchor Kit
Timeless Elegant Design
Integrated Ventilation
Shed Base Options for Hex Living Metal Sheds
All Hex Living Metal Sheds are advised to be Installed upon a hard standing surface base area such as concrete or slabbed paving. The base must be flat and level.
A damp proof membrane (plastic sheet material) should be placed prior to installing your shed/base to limit condensation.