Description
The Pro-Tect 7'x3.5′ Pent Metal Shed with Foundation Grid – Grey can provide ample storage space for various items such as bikes, tools, farm implements, and even a lawnmower.
Moreover, this outdoor tool shed offers exceptional weather resistance, providing protection against sun damage, fading, and water accumulation. Apart from that, the stainless steel material ensures durability, while the four reinforced steel pipes contribute to its sturdiness and stability.
Additionally, with its multi-usage design, this tool shed serves as a versatile space that can be used for various purposes, such as a tool room, pet room, garbage room, or storage room. The ventilated air windows can promote air circulation and the corner protective shell adds an extra layer of protection to keep your belongings safe. Order now and transform your garden or yard into a tidy and efficient area with our top-notch outdoor tool shed.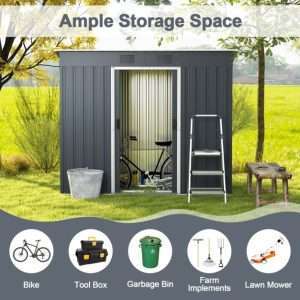 Convenient Storage Solution: Measures 217 x 110 x 174cm the tool organizer provides 3m3 ample storage space for various items such as bikes, toolboxes, garbage bins, farm implements, and lawnmowers. You can easily organize your outdoor tools and create a clutter-free environment.
Sturdy Construction: Crafted from premium stainless steel material, it offers reliable strength and resilience. Moreover, the 4 reinforced steel pipes and ground foundation frame further enhance its structural integrity, ensuring stability and long-term durability.
Weather-Resistant Design: Features a spire roof design, the tool room allows for quick drainage and prevents rainwater accumulation that may lead to rust, and the air windows promotes air circulation to maintain a dry environment. Additionally, the metal shed features water resistance and sun protection that protect the storage room for long-term use.
Effortlessly and Safe Access: Experience the ultimate convenience and security for your gardening tools with our exceptional garden shed. Featuring 2 sliding doors, you can enjoy unrivaled privacy and convenience at same time. Moreover, the innovative ramp design allows for effortless entry, making it easy to push in your carts and wheelbarrows.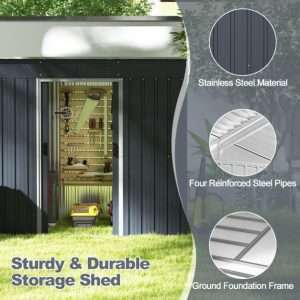 Features Include
Fade resistance material ensures attractive appearance for long term use
Sturdy and durable storage shed can provides a strong structure to protect your belongings
Sliding door allows for easy and smooth access to the storage shed
Ventilated air windows promotes air circulation and ensuring a fresh environment
The corner protective shell enhances the durability of the storage shed
Ramp design for easy access facilitates effortless entry and exit of tools
This multi-usage room can serve as a pet room, garbage room, or storage room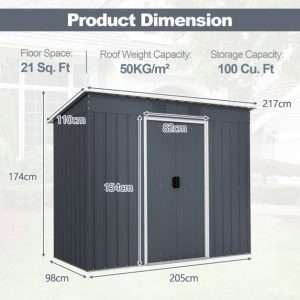 Specifications
Colour: Grey
Material: Galvanized Steel, Colour Steel Tile
Overall Dimension: 217 x 110 x 174cm (L x W x H)
Floor Space: 2m²
Roof Weight Capacity: 50 KG/m²
Storage Capacity: 3m3
Door Size: 82 x 155 cm (L X W)
Net Weight: 40 kg
PLEASE NOTE THIS SHED DOES NOT COME WITH A FLOOR SUPPLIED. Should you require installation and a timber floor it is available as an installation option only.
The shed will be required to be anchored down to your existing concrete base or slabbed paving that is flat and level.