Description
The Pro-Tect 9×8 Apex Metal Shed with Skylight & Foundation Grid – Green is a great storage solution in your garden. It comes complete with an apex roof with fibre reinforced plastic skylight. It also comes with easy access sliding doors and ramp. Made from hot dipped galvanised steel panel and frame construction.
Included within this purchase is a Foundation kit, padlock, 2 keys and 2 pairs of gloves.
The Ultimate Storage Solution for Your Garden
Are you searching for a storage solution that not only keeps your garden clutter-free but also offers a contemporary look to your outdoor space? The Galvanised Steel Shed is a perfect choice. This shed is not just another ordinary shed; it's a storage solution featuring quality finished materials, built to withstand harsh weather conditions and ensure your belongings remain safe and secure.
Apex Roof with Fibre Reinforced Plastic Skylight
The Protect Shed comes complete with a patented rainproof apex roof that is not only stylish but also practical. This ensures that your stored items remain dry and safe from the elements. The fibreglass-reinforced plastic skylight allows natural light to shine into the shed, making it easy to find what you're looking for.
The sliding doors of this shed provides easy access to your stored items. The ramp is an added bonus, making moving heavy items in and out of the shed easy.
Hot Dipped Galvanised Steel Panel and Frame Construction
Made from hot-dipped galvanised steel panel and frame construction, this ensures that the shed is strong and durable, capable of withstanding harsh weather conditions for years to come.
15-Year Anti-Corrosion Warranty
The Protect Metal Shed comes with a manufacturer-limited 15 year anti-corrosion warranty. This warranty covers any undamaged panels that have become perforated by corrosion within 15 years of purchase, as long as the shed has been assembled as per the instruction manual.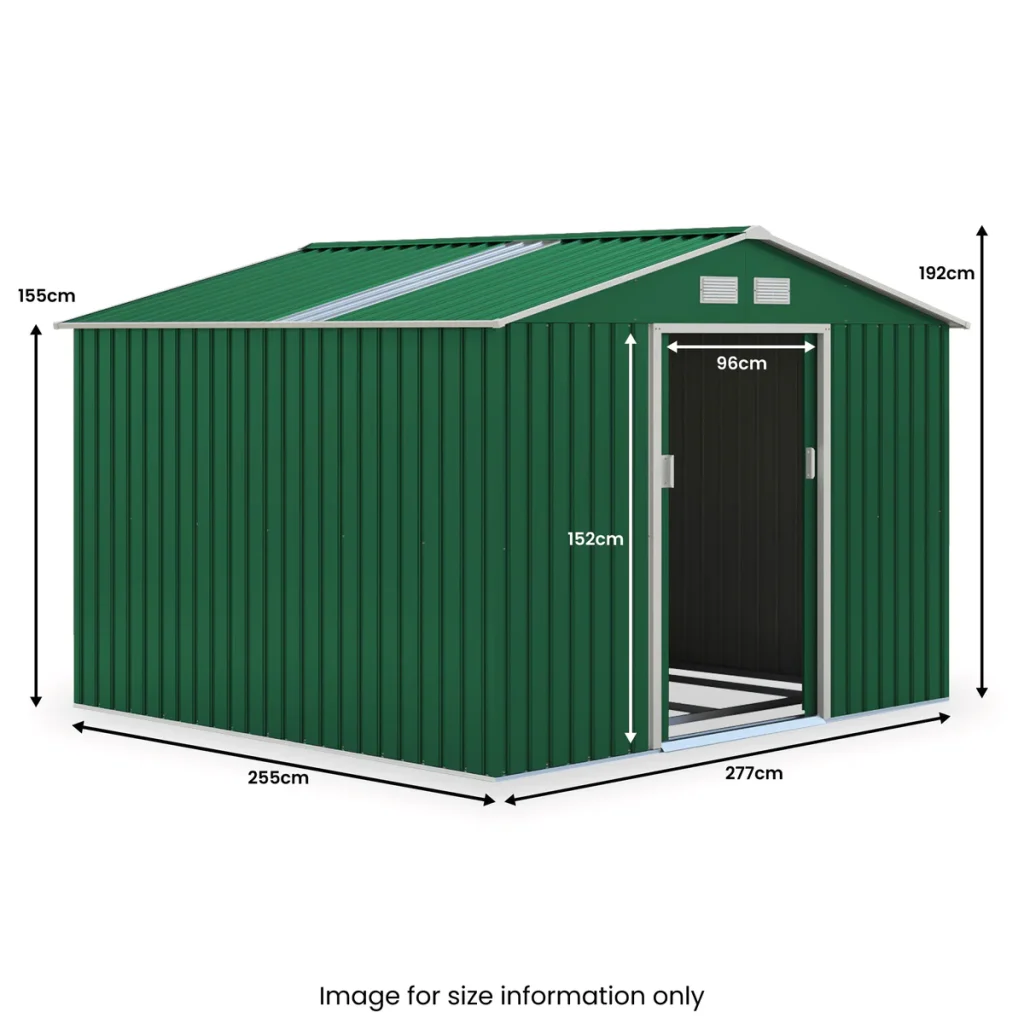 Features Include
Durable metal construction for long-lasting protection
Stylish design enhances garden aesthetics
Provides ample storage space for garden tools and equipment
Resistant to harsh weather conditions
Easy access sliding doors and ramp
Apex roof with fibreglass skylight
Enhances organization and declutters outdoor spaces
15-year manufacturer anti-corrosion warranty
Specifications
H:192cm x W:277cm x D:255cm
Thickness 0.25mm dark grey wall panels.
PLEASE NOTE THIS SHED DOES NOT COME WITH A FLOOR SUPPLIED. Should you require installation and a timber floor it is available as an installation option only.
The shed will be required to be anchored down to your existing concrete base or slabbed paving that is flat and level.