Description
The Duramax Storeaway Flat Lid Plastic Bin Store – Double Cedar Grain was designed to ensure plenty of storage space for your outdoor accessories, being ideal for safely keeping your gardening tools and equipment, bikes, BBQ, garbage bins and much more.
It is a versatile and weatherproof plastic outdoor storage solution with a wooden visual essence for your garden, patio, poolside, and backyard! Unlike similar products on the market, this rubbish/bike storage shed has an elegant, classic design and simple colour, being easy to mix and match with any yard or garden décor.
The doors and lids function independently to enhance user experience of storing and retrieving items while the inner walls are built to support optional shelves (shelves not included). The Cedargrain StoreAway Sheds are safe and secure for storing and protecting your belongings from all weathers! Made with heavy-duty plastic material, weatherproof design and wide opening doors for enhanced manoeuvrability, this bike/ garbage shed will definitely impress you!
This shed is made from superior quality, highly durable plastic material, featuring a special design which is weatherproof and guaranteed to withstand the test of time without cracking or breaking
These sheds can accommodate two standard 240 litre wheelie bins or even be used as a pump room near your swimming pool!
Colour:Grey

Please refer to the exact measurements for the precise building dimensions.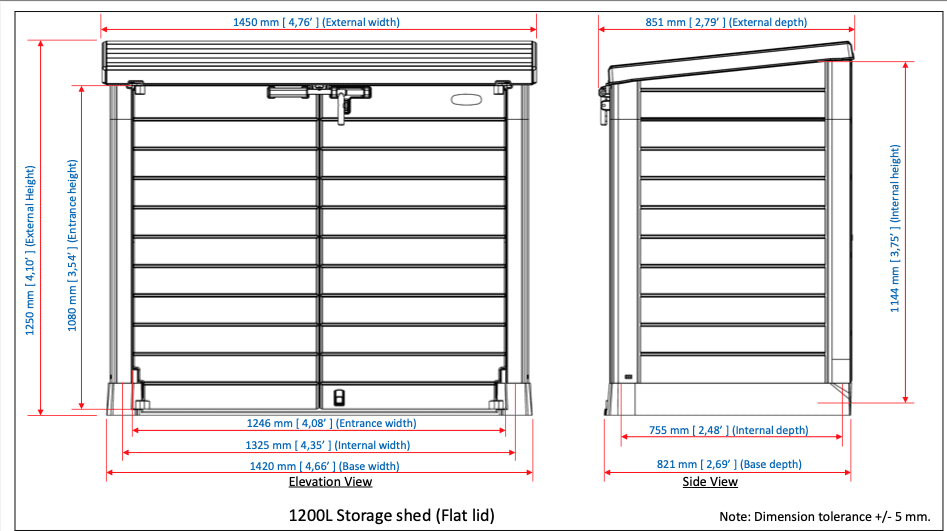 BASE REQUIREMENTS FOR BUILDINGS
All buildings must be anchored to a firm foundation to protect against wind damage. We supply a Foundation Kit  with your product.