Description
The Keter 8'x8′ Factor Heavy Duty Plastic Garden Shed – Beige will provide ample space for a wide variety of tools and equipment.
The Factor 8×8 shed gives you ample storage with plenty of convenience. Made from durable weather-resistant resin, this shed won't rust or rot like wooden sheds, and comes with steel reinforcements for added strength. It features a heavy-duty floor that protects your equipment from water and mud, high-arched double doors that will allow you easy access to the shed contents, and with two shelves are included for instant organized storage. A full-length skylight lets in plenty of natural light, and it's lockable too, so you can keep your contents safe, day and night.
Wide-opening double doors provide convenient access to contents, while an integral window (which can be located on either side of the shed) and skylight provide ample access for natural light. There are also air vents to enable air circulation, as well as prevent condensation and build-up of moisture. The 8x6ft comes complete with 2 shelves and brackets, while a heavy-duty floor helps to keep wet weather and unwanted pests out.
The shed is constructed from durable and robust polypropylene with steel reinforcement. The wood effect finish is UV stabilised for fade resistance, and the shed is virtually maintenance free, simply requiring an occasional wash to stay looking clean.
Plastic sheds like this one come supplied with a floor – an integral part. However, it needs to be built on a suitable hard level base, such as concrete, or paving slabs
Manufacturer's 15 year guarantee is supplied with this product.
BASE REQUIREMENTS FOR BUILDINGS
All buildings must be anchored to a firm foundation to protect against wind damage.
FEATURES
Ideal outdoor storage solution for all garden tools and equipment, garden furniture including BBQ's, bicycles and DIY tools
Wide double entry doors for easy access and storage of larger items
Durable and robust polypropylene construction with steel reinforcement
Heavy duty floor to keep out rain and unwanted pests
Padlock hasp so you can keep everything under lock and key (padlock not included)
Elegant wood effect exterior with double doors, plus ventilation grills for air circulation
Integral window and skylight; heavy duty floor panel; complete with two shelves and brackets
UV-stabilised for fade-resistance
Comes with a 15 year manufacturer guarantee
ABOUT KETER PLASTIC SHEDS
Keter is the innovative global leader in consumer lifestyle solutions for in and around the home. Keter invents, builds, and brings to market an extensive range of patio furniture, indoor and outdoor storage solutions, tool storage systems, and household organization products. These products are known for their long-lasting durability, design, and functionality. Keter designs with the most innovative technologies and builds with sustainable materials, creating lifestyle products that enhance people's spaces, elevate their experiences, and last a lifetime. With products available in over 100 countries through leading retailers, Keter aims to contribute to the longevity of the natural environment by operating in a sustainable manner.
Keter produces long-term-use, resin-based products that are durable in all weather conditions and climates. The resin-based products are created into a variety of textures and finishes, including rattan look, knitted style, wood finish, brass, and copper finish, and more.
SPECIFICATIONS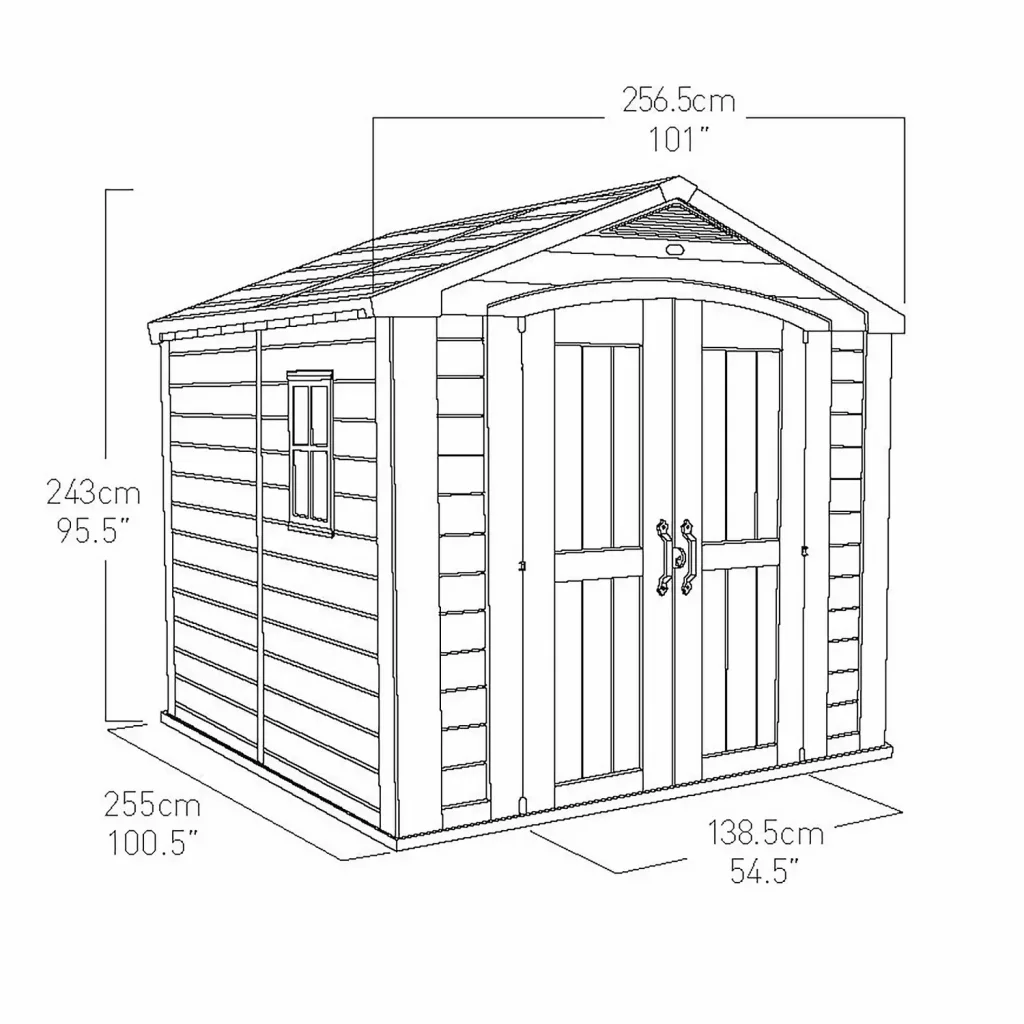 Shelf Count 2
Window Count 1
Capacity 11.8 m3
Collection Factor Line
Colour Family Beige
Entry Width 138.5 cm
External Depth 255 cm
Minimum Foundation Size 248×255 cm
External Height 243 cm
External Width 256.5 cm
Foundation Required Yes
Shipping Weight 157.7 kg
Internal Depth 237 cm
Internal Height 238.5 cm
Internal Width 236.5 cm
Lockable Yes
Material Resin + Metal
Product Weight 144.2 kg
Roof Shape Gable roof
Size 8×8 ft
Snow Load 75 kg/m2
Weather Resistant Yes
Colour Brown