Description
The Lifetime 8×12.5 Heavy Duty Plastic Shed offers you an excellent solution to all your garden storage needs.
Brilliantly conceptualised and manufactured using high-density polyethylene (HDPE) around a powder-coated steel framework, your shed will not only provide you with a top-of-the-range storage solution capable of meeting all your storage needs but with a structure that will last for years to come, a notion that's backed by the generous 10-year manufacturer's guarantee.
Robustly built, their steel reinforced fascia panels are not susceptible to weather depreciation, retiring maintenance to nothing more than a wash.
The Lifetime 8×12.5 Heavy Duty Plastic Shed has several innovative features, including small skylights that run across the roof . They also include single-hinged double doors that open nearly 180 degrees and lock closed, a slip-resistant polyethylene floor, and low-maintenance, steel-reinforced construction.
Lifetime is renowned, deeply established and well respected for manufacturing garden sheds comprising weatherproofed High Density Polyethylene to satisfy desires in superseding ongoing maintenance for a leisurely jet-wash.
Features & Benefits:
Attractive Exterior: UV-protected to help prevent fading and cracking.
Dual-wall high-density polyethylene (HDPE) panels with steel wall supports for added strength.
Stain-resistant exterior never needs painting.
High-Density Polyethylene (HDPE) Floor:
High-Pitched Roof:
Lockable Steel-Reinforced Doors for Added Security (Padlock Not Included).
Screened Vents
Windows x 2 Polycarbonate Windows – Open Half-Way
Dimension
Exterior Dimensions: W233.6 x D370.8 x H 243.8 cm
Interior Dimensions: W228.6 x D365.7 x H238.7 cm
Footprint: W238.7 cm x D375.9 cm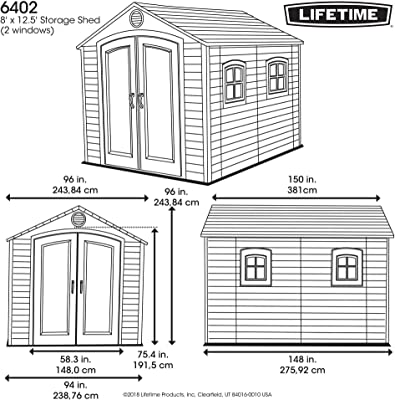 BASE REQUIREMENTS FOR BUILDINGS
All buildings must be anchored to a firm foundation to protect against wind damage.