Description
The Palram 6×5 Canopia Rubicon Double Door Plastic Shed – Dark Grey provides unbeatable weatherproof protection for your tools and equipment.
Using the latest Multiwall Technology, this garden shed is built from 10mm polycarbonate, which is virtually unbreakable and 100% UV-protected, so it will neither fade nor discolour in the sun. The reinforced aluminium frame adds an even greater sense of solidity and is completely resistant to rust. It is strong enough to hold the added weight of shelves, racks and hangers, for all your garden storage needs.
The flooring is made from polycarbonate too, and has anti-slip properties to keep you safe. The 0.9mm shingled polycarbonate skylight roof allows natural light to filter into the shed, but is externally opaque for enhanced security. It blocks harmful UV rays and has an apex design for a traditional, attractive appearance.
The roof's unique polycarbonate skylight panels allow a soft natural light to filter into the shed, which is invaluable when you're storing or retrieving items. However, it remains externally opaque to maintain privacy and keep your valuable tools safe from unwanted attention. Together with the shingle-style design, this also enhances the grey shed's handsome exterior appearance.
You can gain easy access to the shed via wide double doors, which include a low threshold and are fitted with a padbolt to keep stored items safe (padlock not included).
Exclusively made from recyclable components and available in a range of sizes, this plastic shed MUST be anchored to a solid, level foundation. An anchor kit is included for this purpose.
Features
Polycarbonate build using Multiwall Technology
Aluminium frame supports shelving
Weatherproof, UV-protected and maintenance free
10mm multi-wall polycarbonate panels on a robust metal frame
Non-slip floor and shingled polycarbonate skylight roof
Full skylight roof with opaque shingle effect
Double doors with low threshold and padbolt (padlock not included)
Must be anchored to a solid, level foundation – Free hilti screw anchoring kit included
Exclusively made from recyclable materials
Limited 12-year manufacturer's warranty.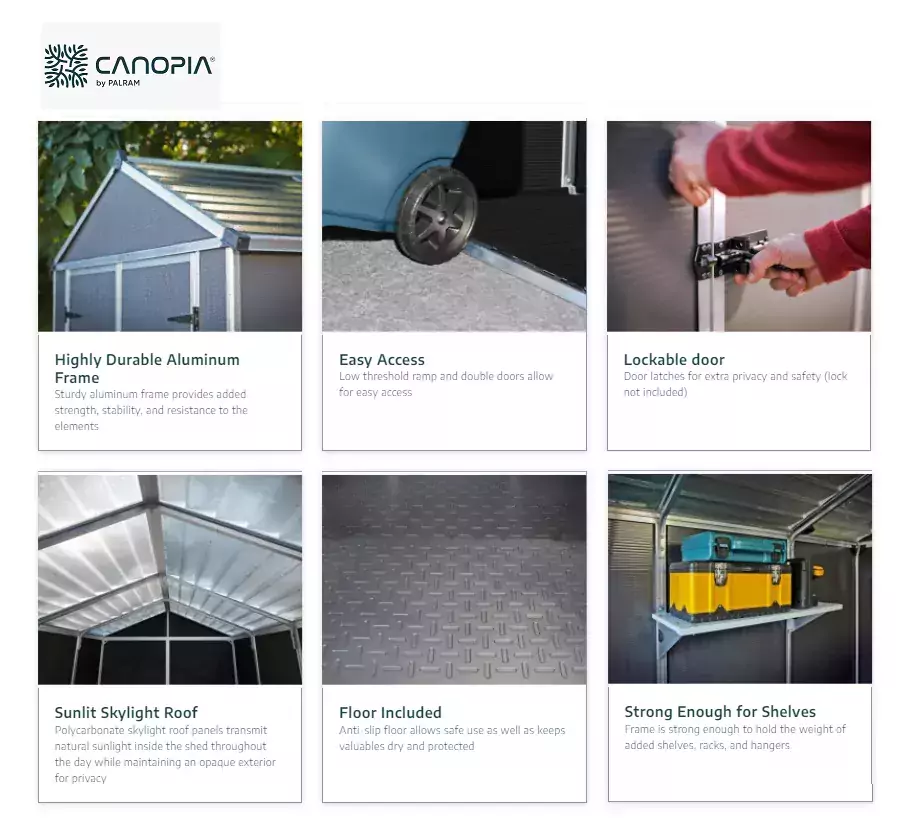 Shed Base Options for Palram Plastic Sheds
All Palram Plastic Sheds are advised to be Installed on a hard standing surface base area. A damp proof membrane (plastic sheet material) should be placed prior to installing your shed/base to limit condensation.
Existing Concrete Base
All sheds should be anchored to a flat and level concrete surface with a damp proof membrane (not supplied).
All sheds must be anchored to the concrete base. Anchor Screws are available to purchase at an additional charge.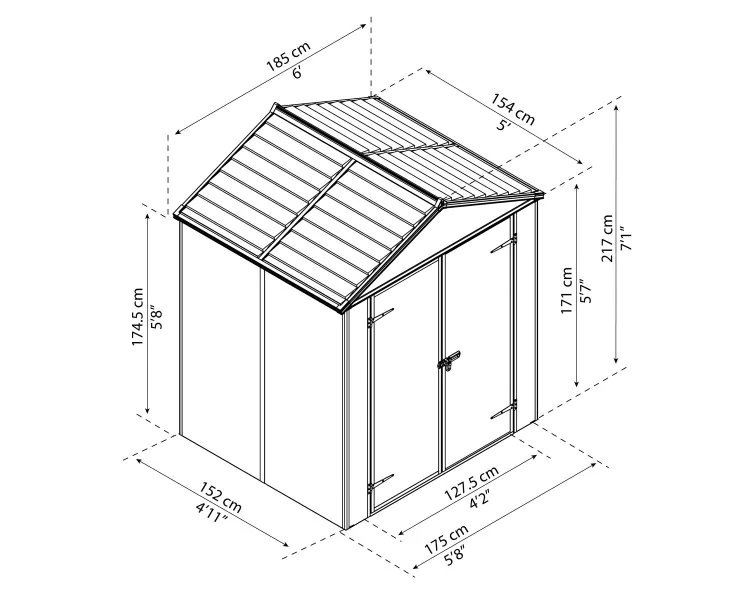 Specifications
Door Type Double Doors
Eaves Height 1755 mm
Ridge Height 2170 mm
Depth at Base 1517 mm
Depth including Overhang 1535 mm
Width at Base 1750 mm
Width including Overhang 1855 mm
Door Height 1710 mm
Door Width 1275 mm
Locking System Padlockable (Lock not included)
Number of Windows None
Packaged Weight 37kg