Description
Enjoy a durable and versatile storage solution for your garden equipment with the Keter 4'x2′ Cortina Alto Heavy Duty Vertical Plastic Garden Shed with Shelves.
Two wide doors offer easy access to the interior, a sloped threshold allows heavier items to be rolled in and out, a heavy-duty floor panel keeps contents clean and dry and to top it all two shelves included for maximum utilization of the storage space.
Duotech UV-proof material: This rustic wood effect deck storage box is made with the latest Duotech UV-protected material. This synthetic resin made by Keter brings a whole new level of durability along with a natural look and zero maintenance.
Keeps content dry and ventilated: Designed to withstand the sun and rain, the universal shed keeps everything from outdoor cushions to barbecue equipment dry and ventilated all year round.
Lockable lid for added safety: The automatic opening mechanism makes it easy to open the shed, while a lockable lid keeps your garden items nicely protected (lock not included).
BASE REQUIREMENTS FOR BUILDINGS
All buildings must be anchored to a firm foundation to protect against wind damage.
FEATURES 
Ideal outdoor storage solution for all garden tools and equipment
Made of Duotech UV-protected material
Keeps content dry and ventilated
Weather resistant
2 x shelves included for maximum utilisation and internal organisation
Lockable lid (padlock not included)
Rustic wood effect
Automatic opening mechanism
Weather-resistant
Maintenance free
ABOUT KETER PLASTIC SHEDS
Keter is the innovative global leader in consumer lifestyle solutions for in and around the home. Keter invents, builds, and brings to market an extensive range of patio furniture, indoor and outdoor storage solutions, tool storage systems, and household organization products. These products are known for their long-lasting durability, design, and functionality. Keter designs with the most innovative technologies and builds with sustainable materials, creating lifestyle products that enhance people's spaces, elevate their experiences, and last a lifetime. With products available in over 100 countries through leading retailers, Keter aims to contribute to the longevity of the natural environment by operating in a sustainable manner.
Keter produces long-term-use, resin-based products that are durable in all weather conditions and climates. The resin-based products are created into a variety of textures and finishes, including rattan look, knitted style, wood finish, brass, and copper finish, and more.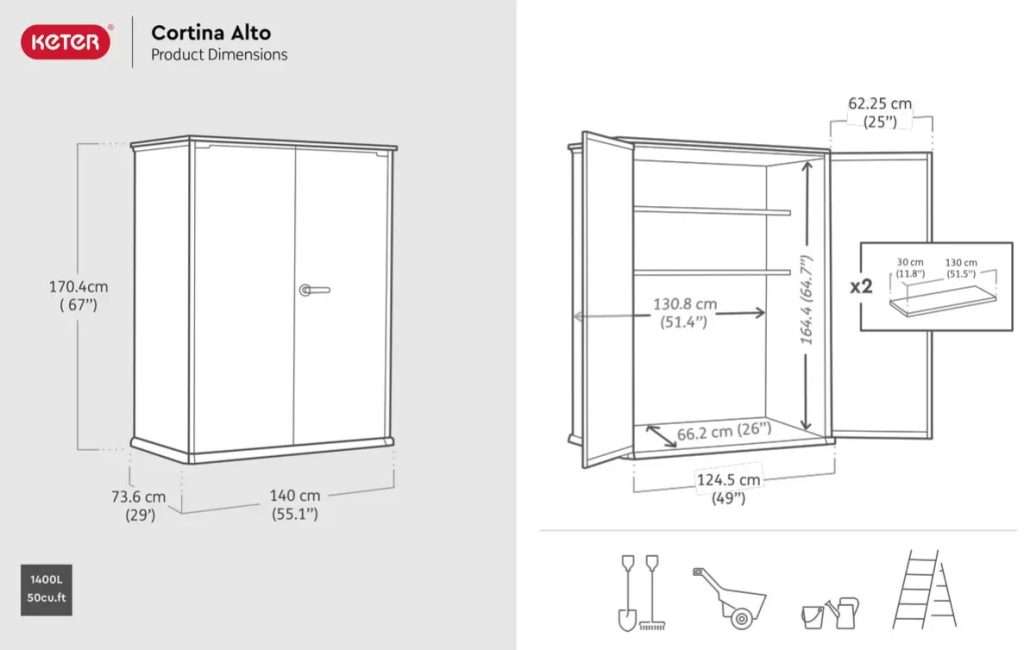 SPECIFICATIONS 
External: H 170.4 x W 140 x D 73.6 cm
Internal: H 164.4 x W 130.8 x D 66.2 cm
Internal Capacity: 373 Gallons (1,415 Litres) 
Footprint: W 140 x D 73.6 cm