Description
The Lifetime 10×8 Heavy Duty Plastic Shed – Rough Cut provides a great amount of extra storage space while accenting the beauty of your back garden.
From the moulded wood grain panels to the simulated shingled roof, you are sure to enjoy this attractive design and durability of a Lifetime products Shed. These resin storage sheds have double lined wall panels with steel reinforcements and roof trusses.
These Lifetime sheds are high quality with very low maintenance, and best of all, there is no painting required! Won't fade or crack, will look like new for many years.
Store lawnmowers, tools and equipment in this Lifetime 10×8 rough cut outdoor storage shed. Use this shed to store your belongings, and attach a padlock to the reinforced doors to keep your things safe from intruders.
This Lifetime rough-cut outdoor storage shed has eight-pane windows in the doors, two side windows and four skylights that provide ample natural light so you can see your belongings without a flashlight. The polycarbonate windows open halfway to give you some fresh air, and the two screened vents help provide airflow while keeping out bugs and other pests.
This Lifetime rough-cut outdoor storage shed has a stain-resistant exterior that resists fading in the sun and maintains its colour without needing to be painted. The included floor doesn't crack or peel over time, and the textured nonslip surface resists oil and stains so it can be used for a variety of activities.
Sturdy steel-reinforced construction
Attractive appearance and design
Dual-wall high-density polyethylene (HDPE) construction
Heavy-duty steel trusses provide additional roof strength
Low-maintenance design
UV protected to prevent weather damage
High-pitched roof allows for quick drainage of rain and snow
Lockable steel-reinforced doors for added security
Slip-resistant high-density polyethylene (HDPE) floor protects against oil, solvents and stains
Customisable shelving and storage system
4x Skylights
2 x Screened vents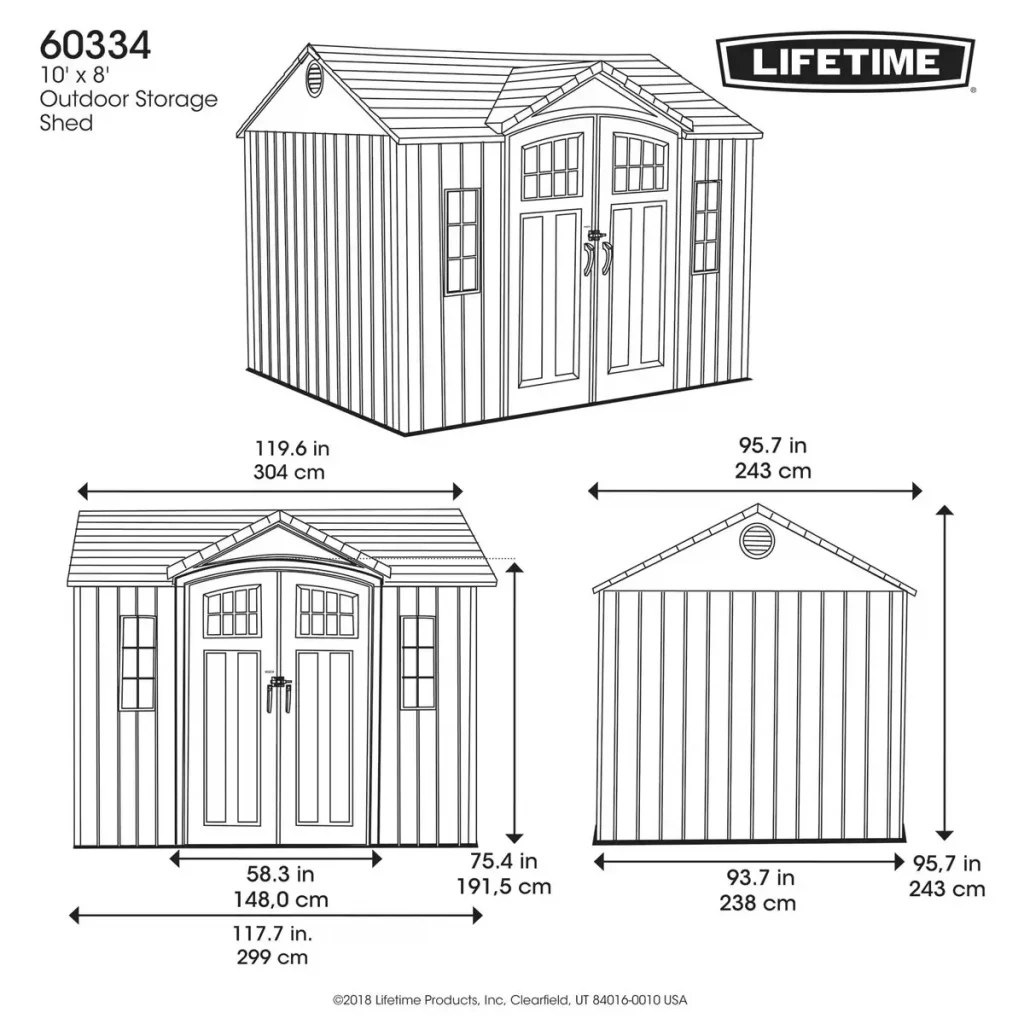 Footprint: W 299 x D 238 cm
External: H 243 x W 238 x D 299 cm
External (including overhang / eaves): H 243 x W 243 x D 304 cm
Internal: H 117-238 x W 226 x D 289 cm
Internal Capacity: 14m³ (494.5ft³)