Description
The Lifetime 15×8 Heavy Duty Plastic Shed – Dual Entry Rough Cut Grey offers you an excellent solution to all your garden storage needs.
Brilliantly conceptualised and manufactured using high-density polyethylene (HDPE) around a powder-coated steel framework, your shed will not only provide you with a top-of-the-range storage solution capable of meeting all your storage needs but with a structure that will last for years to come, a notion that's backed by the generous 10-year manufacturer's guarantee.
Robustly built, their steel reinforced fascia panels are not susceptible to weather depreciation, retiring maintenance to nothing more than a wash.
The Lifetime 15×8 Heavy Duty Plastic Shed – Dual Entry Rough Cut Grey has several innovative features, including small skylights running across the roof. They also include 2 sets of single-hinged double doors that open nearly 180 degrees and lock closed, a slip-resistant polyethylene floor, and low-maintenance, steel-reinforced construction.
This Lifetime 15 x8 Dual Entrance Shed has a grey rough cut textured finish to all the walls, giving it the natural look and feel of wood, but without the maintenance of painting or staining it.
Lifetime is renowned, deeply established and well respected for manufacturing garden sheds comprising weatherproofed High Density Polyethylene to satisfy desires in superseding ongoing maintenance for a leisurely jet-wash.
Features & Benefits:
Attractive Exterior: UV-protected to help prevent fading and cracking.
Dual-wall high-density polyethylene (HDPE) panels with steel wall supports for added strength.
Stain-resistant exterior never needs painting.
Vertical patterned grey rough cut wall panels
High-Density Polyethylene (HDPE) Floor:
High-Pitched Roof:
Lockable Steel-Reinforced Doors for Added Security (Padlock Not Included).
Screened Vents
Internal shelving system
2 x Polycarbonate Windows
Dimensions
Footprint: W 450 x D 235 cm
External: H 242 x W 458 x D 244cm
External (including overhang / eaves): H 242 x W 450 x D 235cm
Internal: H 181 x W 434 x D 230 cm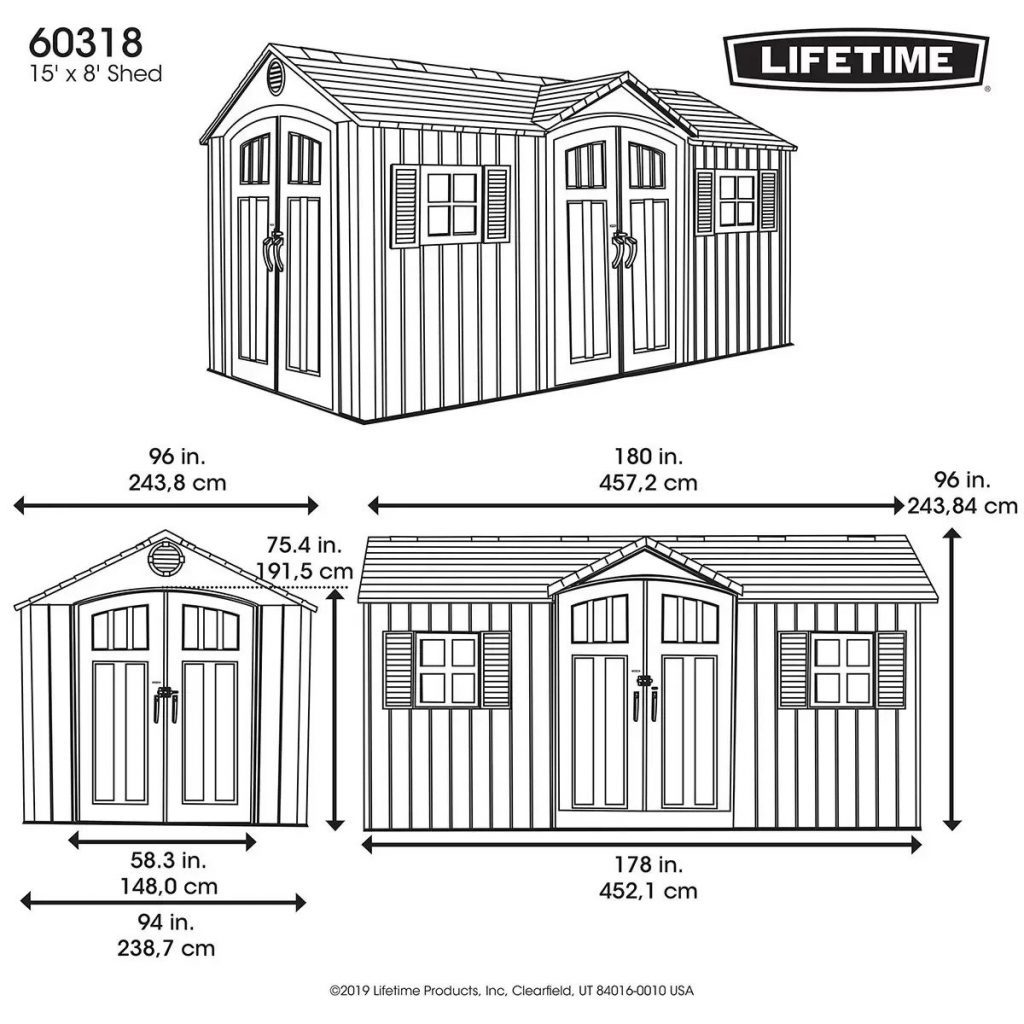 BASE REQUIREMENTS FOR BUILDINGS
All buildings must be anchored to a firm foundation to protect against wind damage.