Description
Update your garden with the addition of the Palram 6×8 Canopia Skylight Plastic Apex Shed – Dark Brown , a stylish heavy duty addition that allows you to safely store a range of equipment including lawn tools, sports equipment, patio furniture and more.
Built using highly resistant polycarbonate panelling and a rust-free aluminium frame, this shed is maintenance free and resistant to weather deterioration for years of outdoor use. The resilient polycarbonate panels do not fracture, discolour or become brittle over time ensuring that the structure remains durable and tough while inside, your garden gear is kept safe from sun damage thanks to the UV blocking roof panels.
The Skylight garden storage shed is made with a reinforced aluminium frame and flexible polycarbonate panels specially engineered to withstand the expansion and shrinkage associated with weather changes. The panels do not bend, fracture, or discolour over time, giving your things maintenance-free protection for years to come. The unique Skylight roof panels transmit natural sunlight during the day while giving you opaque external visibility for maximum privacy as well as front and back vents for ample airflow. Designed with your outdoor living needs in mind, the Skylight plastic shed will complement your home, enhance your outdoor living space, and organize and protect your things.
The unique skylight roof shingles of the polycarbonate roof transmit plenty of natural light – while still appearing opaque from the outside – making working in your garden shed more pleasant. Air vents also ensure better working and storage conditions.
Palram Canopia SkyLight Shed panels are flexible and super strong the perfect addition to most gardens!
Your plastic shed must be anchored on a flat, hard surface such as slabs or concrete.
Features
Heavy duty and ideal for storing lawn tools, sports equipment, patio furniture and more
The aluminium frame provides an extra sturdy structure
Galvanized Steel perimeter base included for additional stability strength and alignment
An attractive and low maintenance storage solution for any garden.
Low threshold and wide double door allow you to easily manoeuvre when handling bulky equipment
The ample size will easily accommodate most requirements and gives space for working or storing your large tools and equipment.
Unique skylight roof transmits soft natural sunlight yet maintains opaque external visibility
Virtually unbreakable, exceptionally high impact resistant and flexible Provide complete UV blockage, and are 100% UV protected;
Simple and easy set-up with Slide and Lock panelling system
Anti slip floor with anchoring option included
Low-threshold and wide double door for easy access
Maintenance free washable, no rust, rot or peel
Lockable door latches for extra privacy and safety (lock not included)
Efficient Ventilation, Front and back vents allow natural air circulation
10 Year Limited Manufacturer's Warranty
* Despite every effort to provide accurate images of each product?s colour and design, actual colours and design may vary slightly, due to different device screen settings, the lighting in the installation location, slight differences in product finishes over time and other factors.?SHEDMASTER will not accept responsibility for any colour or design differences that are not factory faults.?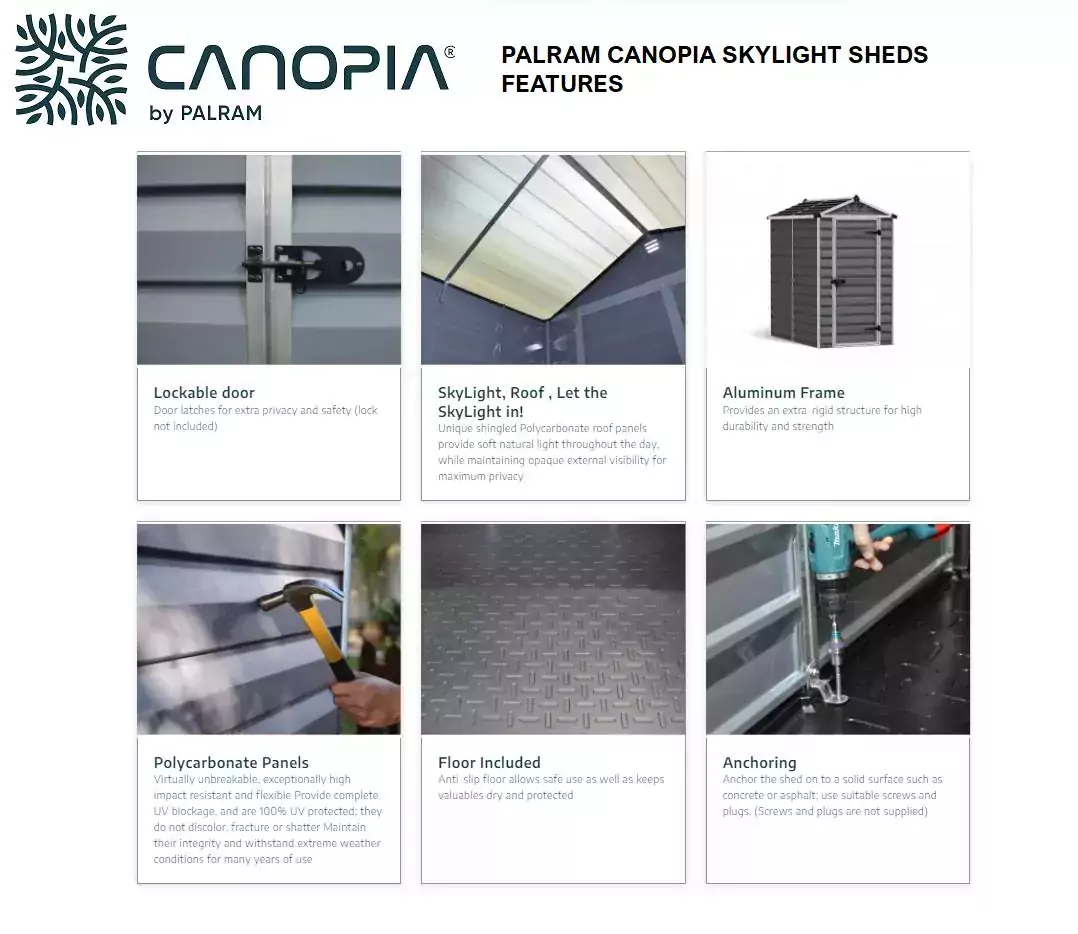 Shed Base Options for Palram Plastic? Sheds
All Palram Plastic? Sheds are advised to be Installed on a hard standing surface base area. A damp proof membrane (plastic sheet material) should be placed prior to installing your shed/base to limit condensation.
Existing Concrete Base
All sheds should? be anchored to a flat and level concrete surface with a damp proof membrane (not supplied).
All sheds must be anchored to the concrete base. Anchor Screws are available to purchase at an additional charge.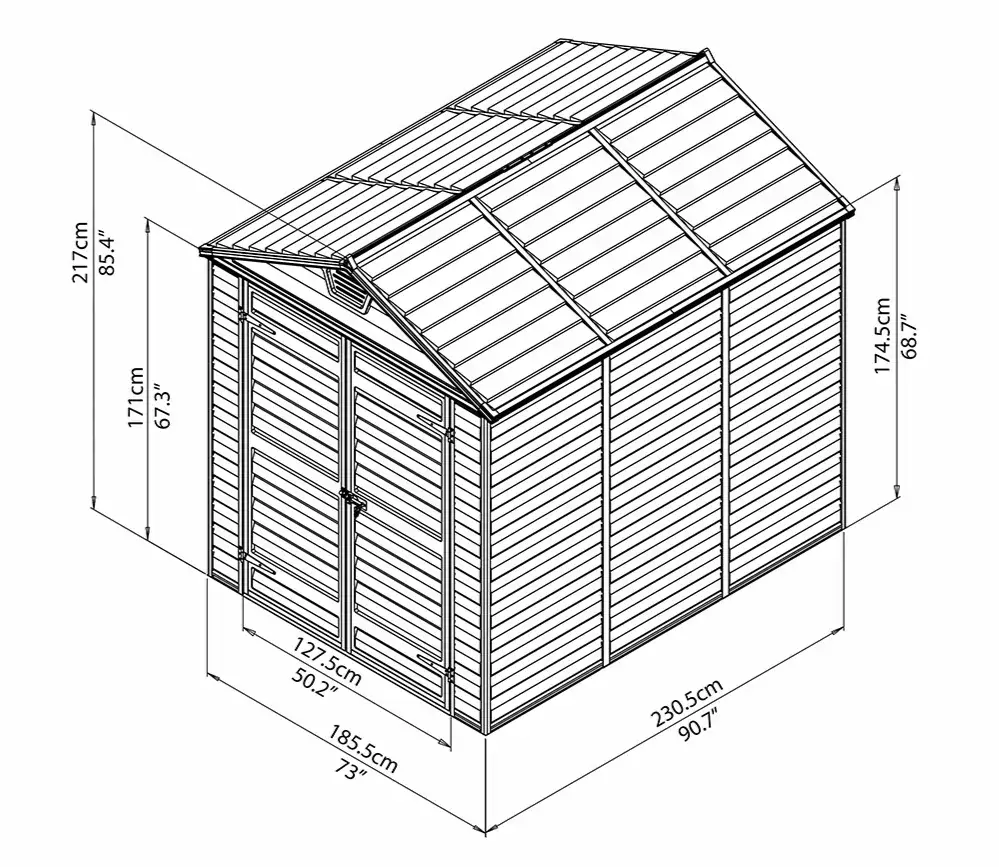 Specifications
External (includes roof overhang):
Height: 2170mm
Width: 1854mm
Depth: 2286mm
Eaves Height: 1745mm
Footprint:
Width: 1750mm
Depth: 2268mm
Internal:
Height Max: 2080mm
Width: 1713mm
Depth: 2230mm
Door Opening:
Height: 1710mm
Width: 1275mm