Description
The Pro-Tect Pro 10'x12′ Metal Apex Shed with Foundation Grid – Grey  is a quality metal shed designed for long lasting quality.
This metal storage shed is dedicated to keeping your garden neat and organized. It offers roomy storage space for your lawn mower, sports equipment, bikes or other accessories.
The apex roof will not leak water even on rainy days. Wide sliding doors with handles allow easy access to any tools. Made of weather-resistant galvanized metal, it will stand up to season after season of use. This outdoor storage shed is perfect for garden, lawn, backyard and so on.
Unlike wooden garden sheds that demand time-consuming, costly treatments and are vulnerable to rot, this metal garden shed requires minimum maintenance.
This Electro galvanised metal shed provides a strong secure storage solution at a very favourable price. Produced in a double-baked-on enamel finish for durability. The shed has 2 doors which have deep runners that make them run smoothly.
A Foundation Grid is provided to ensure the shed sits on an even surface The base is a galvanised steel framework that sits inside the shed (please note base boards are not included, you will need to purchase ply boards for the floor and put on top of the base framework) the purpose of this base structure is to keep the goods inside the shed off the ground. You always have the option not to use the base framework and set up shed directly onto the ground.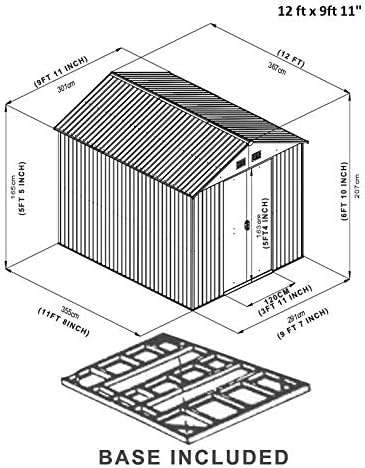 Multi-purpose Storage Shed: The storage shed provides plenty of space for your gardening tools, such as lawn mower, garden cart, ladder, etc. More than that, it can also serve as a bike garage, pet house, garbage chamber and so on.
Weather-resistant Frame: Made of high-quality galvanized metal, this storage shed is sturdy and anti-rust, able to cope with any weather conditions. Meanwhile, the wide base and reinforced structure ensure excellent stability and wind resistance. It will last for many years to come.
Pent Roof and Sliding Doors: The pent roof allows rainwater to flow down to the ground, preventing rusting due to accumulated water. In addition, sliding doors with convenient handles enable you to close it easily to conceal items, as well as opening it quickly for easy access.
Assembly required
Dimensions: External: Height 207 x Width 301 x Depth 367cm
Door on the 10ft Side
Dimensions: Internal: Height 207cm x Width 291cm  x Depth 335cm
PLEASE NOTE THIS SHED IS SUPPLIED WITH A FOUNDATION GRID ONLY – THIS IS NOT ALTERNATIVE TO A BASE THAT WILL BE REQUIRED FOR THE SHED TO SIT ON.s
THIS SHED IS NOT SUPPLIED WITH A TIMBER FLOOR