Description
The Saffron SidePro Vinyl 10.5'x3′ Apex Shed is ideal for most gardens. This storage shed was designed to meet the height requirements for most communities.
The Saffron SidePro Vinyl 10.5'x3′ Apex Shed is maintenance-free. and is constructed of durable all-weather vinyl in neutral ivory, it will never need painting or treating. It will not rust, dent, rot, mildew or fade. It is also fire retardant and much quieter in the rain than metal sheds. The wall columns are reinforced with a solid metal structure, giving the shed a lot of strength and making it easy to hang shelves or garden tools.
Part of the Woodbridge series, Saffron Sheds by DURAMAX now offers a new 10.5′ x 3′ vinyl shed for smaller storage needs. The new shed gives you the ultimate solution for storage in long slim areas! Our 10.5′ x 3′ SidePro will stand adjacent to the side of a house or fence, inside a garage or even in a basement for extra storage space.
Shopping for a new shed can be tedious; there is no better value out there if you desire a real vinyl shed! This massive shed offers tall walk-in, extra wide double doors. Built with heavy duty wall columns with steel reinforcements to add superior strength, strong enough to hang garden tools on or build shelves with ease. This extra long shed provides a unique solution for odd spaces. Use along side your house, fence or even get organized inside for garage and basement storage needs
DURAMAX vinyl sheds are the highest specification lightweight garden sheds in the market. Apart from the high grade of PVC and steel, they have vents to allow airflow and a skylight as standard. Each Duramax apex shed has pad-lockable hinge doors. One door features internal locking bolts allowing access to all your stored items through either a single or double door opening.
Nominal model sizes are based on the roof dimensions.
Please refer to the exact measurements for the precise building dimensions.
BASE REQUIREMENTS FOR BUILDINGS
All buildings must be anchored to a firm foundation to protect against wind damage. We supply a Foundation Kit with your product.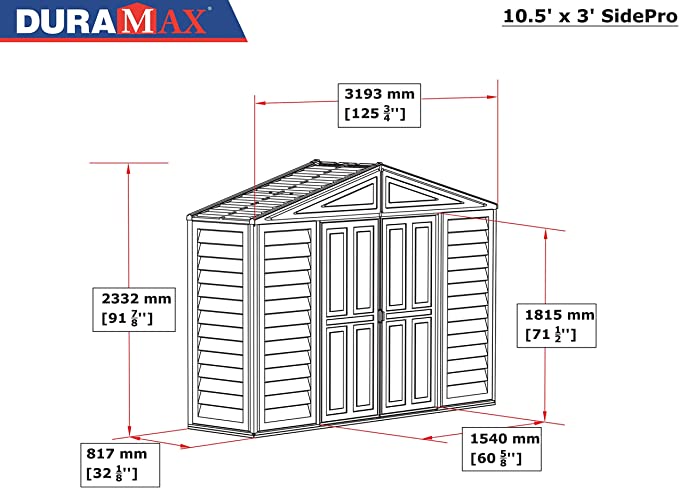 Roof Size 325cm x 88cm
Base Size 319cm x 81cm
Overall Height 231cm
Wall Height 185cm
Weight 93kg