Description
A Timber Garden Shed that is made to last! The world's most adaptable shed, the Power 8'x2′ T&G Timber Pent Bicycle Shed
This is a premium quality shed with high grade timber sourced from the finest Scandinavian forests. The T&G construction is tough and durable, giving you a shed which will last for years and years..
The Power Pent Bike Shed can be installed how you want by allowing you to place the door and windows in any position. Being modular, the door can be placed in any position on any side, which you can choose as you're assembling the building. Plus, this premium quality shed is made with high-grade timber sourced from the finest Scandinavian forests, which makes it durable and lasting.
Large Double Doors mean easy access for the coming and goings of a family on the move.
12mm Shiplap T&G Panels
The 12mm Shiplap T&G Panels are fully Dip Treated with a wax and water-based preserver meaning your shed has a full year of protection straight out of the crate. This type of treatment means that you can still paint, Stain or Varnish your shed to suit your needs.
Scandinavian Timber
The walls of the sheds are made from high grade Scandinavian Timber, which is sourced responsibly. This ensures that the cabin is built to last, with tongue & groove boards making up the floor and roof. Tanalised timber bearers are also provided to protect the floor and keep the shed raised off the ground. This makes the Security Shed a great choice for anyone looking for a robust and durable option.
The Power Pent Bike Shed is the most advanced in the industry. An innovative design provides quality and security.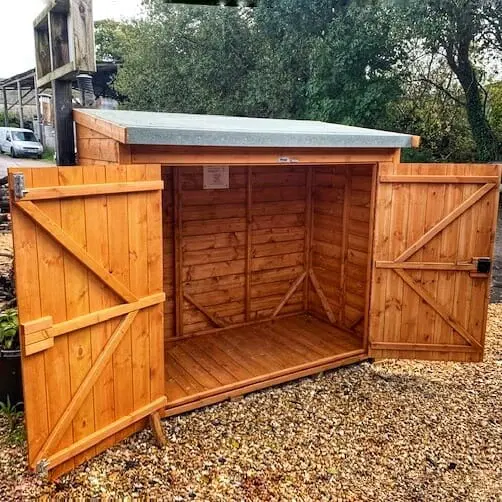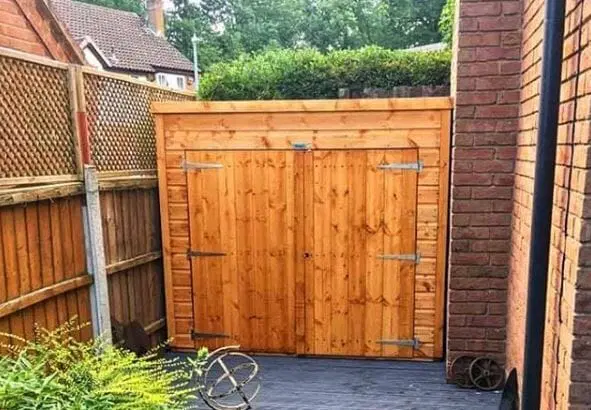 DOOR SIZE
Double – 1496x1306mm
High Back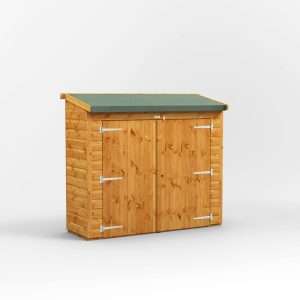 Low Back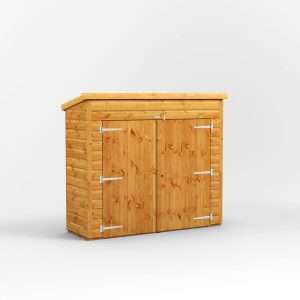 Shed Base Preparation
You will need a firm and level base for the shed to go on. The shed comes with a T&G floor with floor joists on the underside to lift the building off the ground, but you will still need something firm and level for it to go on. This can be concrete, paving slabs, timber bearers or any other suitable firm and level base. If you have any questions on bases then please get in touch. Some silicone around the windows on the outside would also be beneficial.
The base is slightly smaller than the external measurement of the building, i.e. the cladding should overhang the base, creating a run for water. It is recommended that the floor is at least 25mm above the surrounding ground level to avoid flooding.
If you have not chosen to purchase our Power Base then other suitable bases would include a concrete base or a paving slab base (slabs laid on top of 50mm of sharp sand).
Optional Timber Base (chargeable)
This base is made from 90x50mm pressure treated timber bearers. It is a kit which requires self assembly but comes with the instructions and fixings required to screw it together.
Each base section matches each floor panel perfectly to make assembly easy.
Delivery
The shed will arrive on a pallet delivered by our trusted courier. It will be delivered on an 18ton vehicle and a tail lift / pallet truck will unload the pallet. If there are any access problems for an 18ton vehicle (similar to the size of a bin wagon) then please advise us when placing the order so we are able to make alternative arrangements.