Description
The Power 4'x4′ T&G Timber Pub Shed can be installed how you want by allowing you to place the door and windows in any position.
The door can be placed in any position on any side, which you can choose as you're assembling the building. This is a premium quality shed with high grade timber sourced from the finest Scandinavian forests. It is T&G throughout giving you a pub shed which will last for many years.
The Power® Pub comes with heavy duty framing, non-tear roofing felt, extra high wall height, and a 10-year guarantee as standard, however the main feature of this garden bar is large front opening c/w shelf and large roof overhang.
This fantastic pub shed is available in 5x sizes: from 4×4 up to 12×4.
These sheds are constructed using high quality, slow growing Scandinavian Pine with 16mm nominal (12mm finished) T&G timber, on the roof, walls AND floor.
Please note that NO chipboard, OSB or low-grade timber is used in the construction of this building. Power® Sheds supplied pre-treated with an Eco-friendly Golden Oak preservative basecoat (inside & outside) at no extra charge. Heavy, smoothed, rounded and planed framing (44x28mm) has been used internally, and is doubled throughout the shed and at the corners for extra strength, and for security, a mortice lock is fitted internally. We supply rip-resistant roofing felt to keep your building watertight, it's easy to fit, and it long-lasting.
This design is known as a modular garden shed. The door panels can be positioned on the anywhere you like on the back or sides of the Power Pub, enabling you to design the perfect setup for your garden space. All sheds are constructed using 16mm nominal (12mm finished) T&G timber, on the roof, walls AND floor. Please note that NO chipboard, OSB or low-grade timber is used in the construction of this building.
The doors on this shed are great… they are fitted with heavy framing complete with diagonal bracing stop sagging, they can be hinged on the left or right side, they are fitted internally with a mortice lock. For convenience, it comes with an easy grab handle. Non-rusting, zinc galvanised t-hinges, and two turn-buttons are supplied as standard on either a 750mm (30″) wide single door. The large roof overhang protects the shelf and serving hatch from the elements.
COMPOSITION: All shiplap sheds have high grade premium quality T&G timber throughout including roof and floor – No chipboard or OSB. Our wooden sheds use 12mm extra thick shiplap cladding responsibly sourced in line with our sustainability policy.
DURABILITY: Wooden garden building with premium features including joiner made doors, heavy duty framing with corner bracing for increased pent shed strength, galvanised rust resistant ironmongery, and advanced wood preservative for increased protection.
ROOFING: High performance polyester roofing felt which lasts longer on your garden shed.
SECURE DELIVERY: Safe and stress-free convenient delivery for your wooden pub shed. Each pub shed arrives on a pallet and moved to site with pallet truck.
TRUSTED MANUFACTURER: Multiple national award-winning garden shed manufacturer including UK Best New Business, Award for Innovation and Disruptor of the year.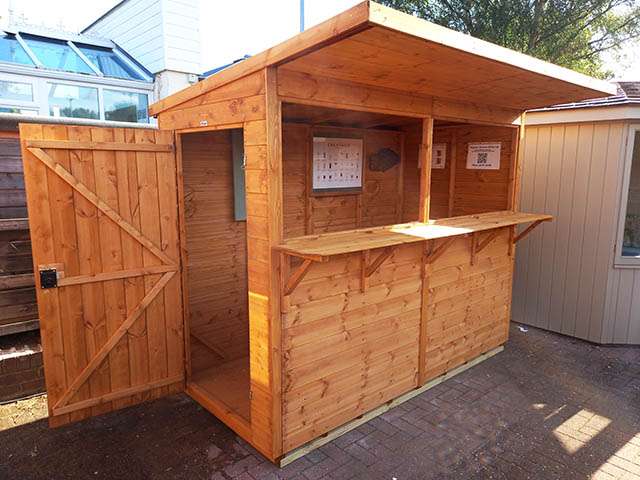 HATCH SIZE
Hatch Size
1136x711mm
DOOR SIZE
Door Size
Single – 750x1630mm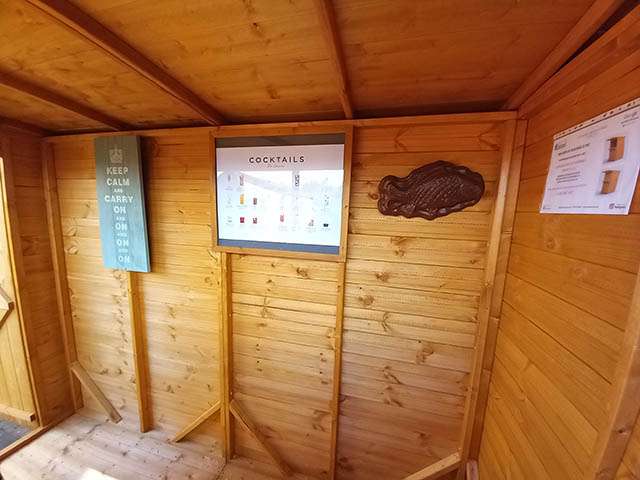 Shed Base Preparation
You will need a firm and level base for the shed to go on. The shed comes with a T&G floor with floor joists on the underside to lift the building off the ground, but you will still need something firm and level for it to go on. This can be concrete, paving slabs, timber bearers or any other suitable firm and level base. If you have any questions on bases then please get in touch. Some silicone around the windows on the outside would also be beneficial.
The base is slightly smaller than the external measurement of the building, i.e. the cladding should overhang the base, creating a run for water. It is recommended that the floor is at least 25mm above the surrounding ground level to avoid flooding.
If you have not chosen to purchase our Power Base then other suitable bases would include a concrete base or a paving slab base (slabs laid on top of 50mm of sharp sand).
Optional Timber Base (chargeable)
This base is made from 90x50mm pressure treated timber bearers. It is a kit which requires self assembly but comes with the instructions and fixings required to screw it together.
Each base section matches each floor panel perfectly to make assembly easy.
Delivery
The shed will arrive on a pallet delivered by our trusted courier. It will be delivered on an 18ton vehicle and a tail lift / pallet truck will unload the pallet. If there are any access problems for an 18ton vehicle (similar to the size of a bin wagon) then please advise us when placing the order so we are able to make alternative arrangements.