Description
The Rowlinson 8'x8′ Timber Pentus 2 House – Natural is ideal for anyone looking for an additional room for work, hobbies, storage or relaxing.
Thanks to cleverly designed equally sized wall panels, you have the possibility to arrange the windows and door around the building in your preferred configuration.
Allowing you to make best use of the space and available natural light. Constructed from heavy duty 41x41mm timber framing with 19mm tongue and groove timber cladding and pent roof.
Featuring two fixed single glazed windows to allow natural light to flow in the, garden room still offers plenty of privacy. Combining modern and traditional style, the garden house has a pent roof which adds a contemporary touch whilst the natural, untreated finish provides a classic feel that will fit in with any garden style.
With interchangeable panels, you can position the window panels and door on either the front or side of the building, giving you complete flexibility and control over your layout. The single door has a cylinder lock and key for added security and peace of mind.
Supplied in its natural timber finish that can be painted or treated to suit the style of your garden.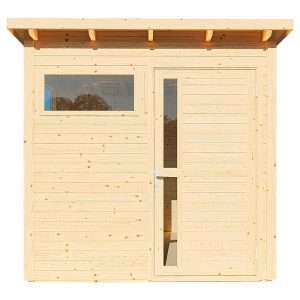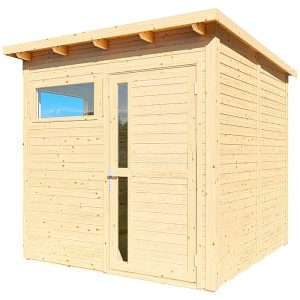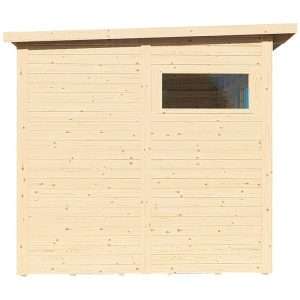 Max. External Dimensions:
Height: 2320mm
Width: 2475mm
Depth: 2655mm
Footprint Dimensions:
Width: 2218mm
Depth: 2300mm
Internal Dimensions:
Max. Height: 2218mm
Min. Height: 2138mm
Width: 2218mm
Depth: 2300mm
Floor Area: 5.10m²
Internal volume: 10.90m³
Door Opening:
Height: 1860mm
Width: 910mm