Description
The Rowlinson 8'x8′ Timber Pentus 2 Office with Extension– Natural is an easy way to add more room if you need extra living space, an office, games room, or just somewhere to sit and enjoy the garden.
Their modern design with floor-to-ceiling double-glazed front windows let in plenty of light giving the inside a bright airy feel, which is further enhanced by the two opening side windows you can position on either side of the building. Featuring heavy duty 41x41mm timber framing with 19mm tongue and groove timber cladding and pent style roof.
With a lockable single door for added security, the stylish garden room has two full sized fixed windows that are double glazed to allow plenty of natural light in. Whilst the two single glazed side windows can be opened and positioned on either side of the building to suit your requirements and garden.
The porch style extension further enhances the versatility of the building. This large, sheltered space has many uses such as a practical space for work or hobbies, a cosy garden snug or simply a covered storage area.
Made from 19mm rounded tongue and groove cladding, the contemporary garden office is supplied with a 19mm tongue and groove roof and a 16mm solid board floor. Available in either a natural or anthracite finish, the garden office is a durable and contemporary addition that will look great in any garden.
Available  in its natural timber finish that can be painted or treated to suit the style of your garden.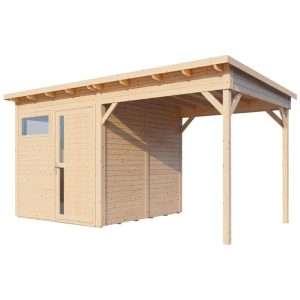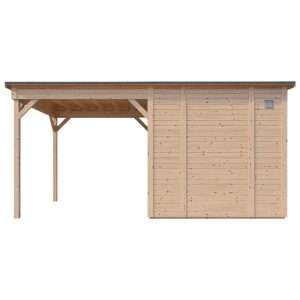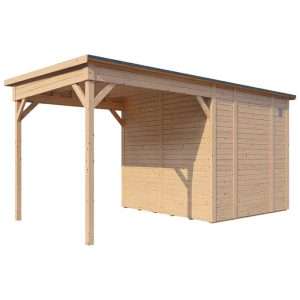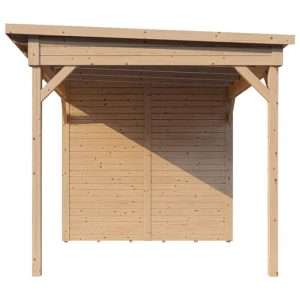 Max. External Dimensions:
Height: 2320mm
Width with extension: 4715mm
Width of Shed: 2475mm
Depth: 2655mm
Footprint Dimensions:
Width with extension: 4455mm
Depth: 2300mm
Internal Dimensions:
Max. Height:2218mm
Min. Height:2138mm
Width: 2218mm
Depth: 2300mm
Floor Area: 5.10m²
Internal volume: 10.90m³
Extension Internal Dimensions:
Max. Height: 2218mm
Min. Height: 2138mm
Width: 2220mm
Depth: 2320mm
Floor Area: 5.15m²
Door Opening:
Height: 1860mm
Width: 910mm