Description
Enjoy a place to store your garden essentials with this Rowlinson Timber 4'×3′ Oxford Shiplap Apex Shed. Crafted from quality, pressure treated, shiplap cladding, this durable garden shed is sure to provide a convenient outdoor storage solution for years to come. The natural timber finish allows it to fit in well with any outdoor environment.
This 4×3 Shiplap Apex Shed is ideal for storing all your garden essentials safely and securely. The apex roof offers plenty of headroom and includes mineral roofing felt for extra protection. Pressure treated against rot with a natural timber finish, this item is sure to last for many years to come
The 4×3 Oxford shed is a great space saving item to store any precious garden items, safely and securely.
Key Features of Oxford Timber Shed Range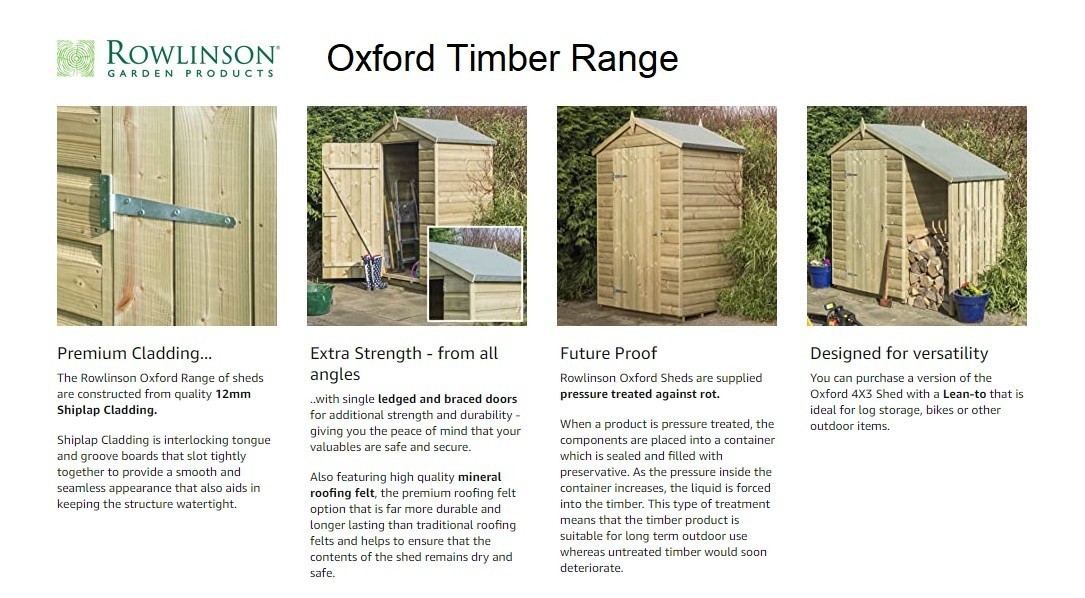 Specifications
External (includes roof overhang):
Height: 1950mm
Width: 1290mm
Depth: 950mm
Footprint:
Width: 1175mm
Depth: 880mm
Internal:
Height Max: 1785mm
Height Min: 1580mm
Width: 1175mm
Depth: 880mm
Door Opening:
Height: 1520mm
Width: 645mm