Description
Provide your plants with ideal conditions for nurture and growth with the Palram 10×28 Balance Greenhouse – Sliver (Hybrid Glazing) (Hybrid Glazing) .
It's attractive, strongly built and features two virtually unbreakable polycarbonate glazing types for sunlight transition optimization. The combination of the safe polycarbonate with the reinforced, rust resistant aluminium frame provides you with a well-designed and durable greenhouse. Enjoy gardening for many years; cultivate your own organic fruits, veggies and herbs in a well-balanced environment.
With two types of glazing, you get a balanced DIY greenhouse that combines the protection of the diffused twin-wall roof panels with the light transmission of the crystal-clear wall panels for ideal growing conditions. All panels are made of UV-protected polycarbonate, a glass-like, a virtually unbreakable high-end polymer that is uniquely suited for greenhouses.
The extra-large workspace gives you plenty of room to grow an abundance of vegetables and herbs and store the tools and accessories you need. The Balance Greenhouse is also extremely accessible with wide double doors and a low threshold for wheelbarrows to go in and out and enough room to transfer large trays of plants.
The combination of the safe polycarbonate panels with the rust-resistant, aluminium frame and extra strong support beams provides you with a greenhouse that is well-designed and durable, so you never have to worry about the sturdiness or safety of your greenhouse.
For a beautiful, well-designed, and spacious addition to your gardening experience, get a Balance backyard Greenhouse today!
Features
Highly resistant, wide, transparent, and safe backyard greenhouse kit (with Fine Shield Technology™).
Roof panels – virtually unbreakable twin-wall polycarbonate – diffuse over 70% of the harsh sunlight for an even soft light
Wall panels – virtually unbreakable crystal-clear polycarbonate – provide over 90% light transmission, yet blocks the harmful UV sun rays
The greenhouse combines two types of glazing for balanced light exposure.
The greenhouse panels provide up to 100% protection from harmful sun rays (UV).
100% UV protected, maintenance free design
Life-time resilient polycarbonate plastic walls; do not fracture, turn yellow or opacify over time.
Reinforced, non-rusting, robust aluminium structure.
Clean-lined and functional design, developed for optimal use of the greenhouse interior space.
Built-to-last thanks to outstandingly durable materials.
Maintenance-free greenhouse.
Protects your plants from the elements so that you can enjoy an extended growing period..
Galvanised steel base included with designated holes for anchoring (anchors not supplied) for additional structural stability
Low-threshold, hinged wide and high double doors for easy access
Built-in gutter system to channel and easily collect rainwater
Manual vent window(s) allow for the proper humidity and ventilation levels
Specifications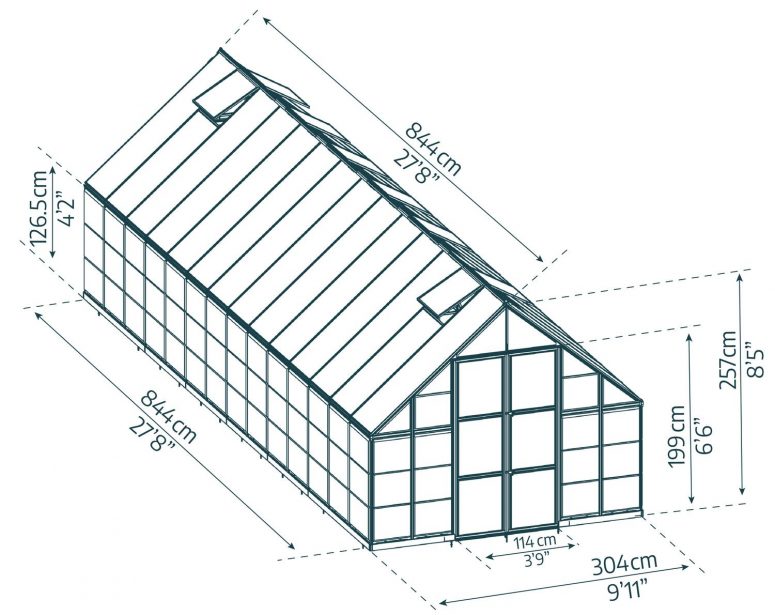 A Length 844cm 27'8″ft
B Width 304cm 9'11″ft
C Height 257cm 8'5″ft
D Door width 114cm 3'9″ft
E Door height 199cm 6'6″ft
Polycarbonate Glazing
The BALANCE range features Hybrid Glazing!
Note: The greenhouse comes with base rail and not a floor.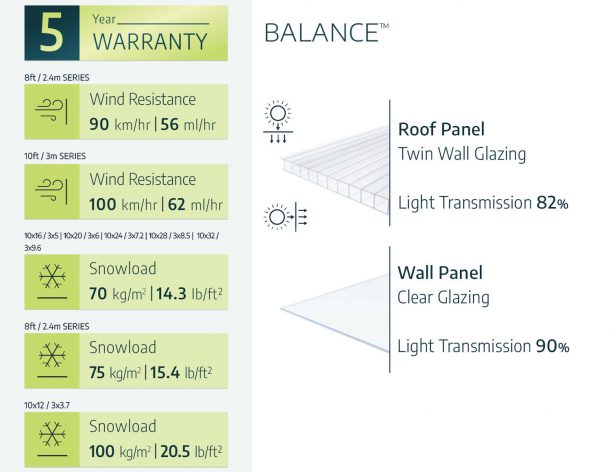 OPTIONAL EXTRAS FOR THE PALRAM GREENHOUSES
Optional Extras for the Palarm Greenhouses can be found here.
BASES FOR GREENHOUSES
By far the most practical and durable foundation for any greenhouse is a solid concrete base. A good option for large greenhouses and can be set above ground level quite easily. It can be very easily maintained and kept clean and tidy with a broom, washed down when needed with detergent.
SHEDMASTER recommends that your greenhouse is built on a solid concrete base that is flat and level.
Alternatively the greenhouse can be built upon Breeze blocks that make an ideal solid perimeter for greenhouses.
It can be anchored to a foundation, depending on the greenhouse, some have compatible holes at the bottom of the greenhouse base, and some have their own integrated anchoring. The greenhouse can be anchored to concrete slab. It can be anchored directly to the ground using ground stakes (ground stakes are not supplied with the greenhouse kits). *Firmly connect the product to a level surface immediately after completion of the assembly. Anchoring this product to the ground is essential to its stability and rigidity. It is required to complete this stage in order for your warranty to be valid.
INSTALLATION SERVICES
SHEDMASTER recommends that your greenhouse is built on a solid concrete base that is flat and level.
SHEDMASTER will install your greenhouse upon your existing concrete base. SHEDMASTER does not install or erect bases for greenhouses.
HYRBID GLAZING