Description
Palram 6×10 Sunroom Lean To Greenhouse – White (Hybrid Glazing) will be a spacious extension to your property that can be used in a variety of ways throughout the year.
It's certainly solidly built from highly durable resin that remains rigid whatever the weather and the bright interior benefits from acrylic side panels that have excellent light transmission. The polycarbonate roof panels are twin walled, so offer diffused light and insulation that will be appreciated during the colder months.
Damaging UV rays are blocked by the acrylic and polycarbonate panels, they are perfect for glazing as they resist high impacts without breaking and will not discolour. The resin frame is similarly hard wearing and maintenance free, with its strength increased by aluminium profiles.
A single roof vent prevents the room from overheating and a hinged door on either end provides quick access to your garden. Any outside space will be enhanced by the appearance of this Dutch barn style structure, and it can be quickly assembled using an innovative pin and lock system.
It is the perfect environments to sit back kick off your shoes and enjoy your time off. Use it as an indoor Jacuzzi, for entertaining or alternately use it as a hobby greenhouse during winter season.
The combination of the 2 glazing types allows a very pleasant atmosphere and generates a comfortable lounging environment; twin-wall Polycarbonate roof panels and UV immune Acrylic wall panels.
The robust resin frame with its additional Aluminium profiles allows the use of sliding technique for easier assembly. Our home adjoining sunroom addition is built for a long and lasting use.
Features
Resilient, transparent acrylic clear as glass side panels, immune to UV rays, retain 90% light transmission and clarity
Virtually unbreakable, twin-wall polycarbonate roof panels, filter the sunlight and block up to 100% of the harmful UV rays
Thick resin frame improves insulation and creates extra durability for years to come
Twin Wall Polycarbonate Roof Panels
UV Immune Acrylic Wall Panels
Robust Resin Frame With Aluminium Profiles
Virtually Unbreakable, High Impact Resistant
Withstands Extreme Weather Conditions
Single Door With Handle & Holder
Hinged Side Door Can Be Assembled On Either End
Roof Vent Provides Air Flow
Smart Pin & Lock Connectors
Specifications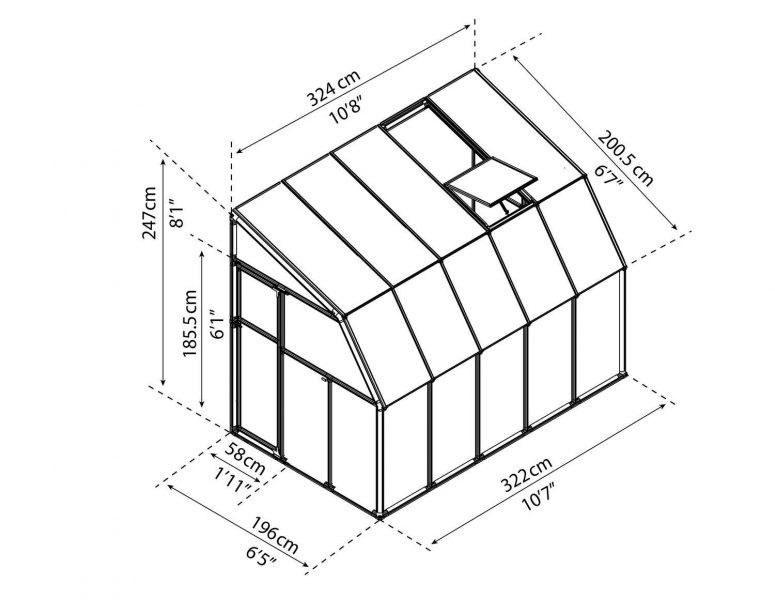 Length 324cm 10'8″ft
Width 200.5cm 6'7″ft
Height 247cm 8'1″ft
Door Width 58cm 1'11″ft
Door Height 185.5cm 6'1″ft
Polycarbonate Glazing
The SUNROOM range features Hybrid Glazing!
Note: The greenhouse comes with base rail and not a floor. It also must be installed against a wall!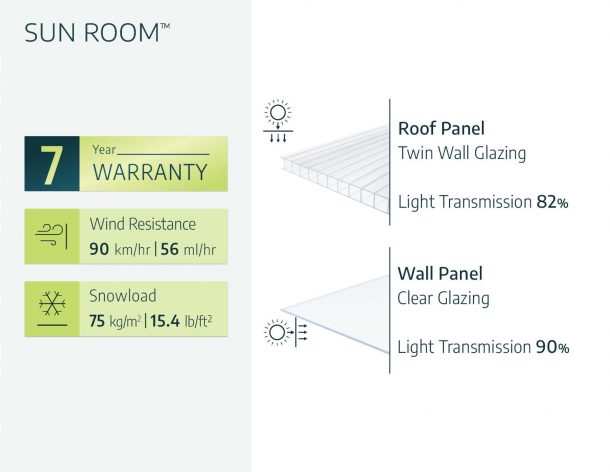 OPTIONAL EXTRAS FOR THE PALRAM GREENHOUSES
Optional Extras for the Palarm Greenhouses can be found here.
BASES FOR GREENHOUSES
By far the most practical and durable foundation for any greenhouse is a solid concrete base. A good option for large greenhouses and can be set above ground level quite easily. It can be very easily maintained and kept clean and tidy with a broom, washed down when needed with detergent.
SHEDMASTER recommends that your greenhouse is built on a solid concrete base that is flat and level.
Alternatively the greenhouse can be built upon Breeze blocks that make an ideal solid perimeter for greenhouses.
It can be anchored to a foundation, depending on the greenhouse, some have compatible holes at the bottom of the greenhouse base, and some have their own integrated anchoring. The greenhouse can be anchored to concrete slab. It can be anchored directly to the ground using ground stakes (ground stakes are not supplied with the greenhouse kits). *Firmly connect the product to a level surface immediately after completion of the assembly. Anchoring this product to the ground is essential to its stability and rigidity. It is required to complete this stage in order for your warranty to be valid.
INSTALLATION SERVICES
SHEDMASTER recommends that your greenhouse is built on a solid concrete base that is flat and level.
SHEDMASTER will install your greenhouse upon your existing concrete base. SHEDMASTER does not install or erect bases for greenhouses.
HYRBID GLAZING