Description
The Palram 6×12 Eco Grow Greenhouse – Green (Twin Wall Glazing) is the classic choice for greenhouse growers. Designed in a barn shape, the DIY Greenhouse offers a classic look, comfortable space, and superior heat insulation. The single hinged door can be added on either the left or right-hand side and easily stays open with the magnetic door catch.
The roof vent provides ventilation for temperature and humidity control even when the door is closed and enhancing the temperature control further are the rubber sealing strips and heavy-duty UV-protected resin frame that provide better insulation.
Your plants are protected from both extreme weather and the sun with the virtually unbreakable, 4 mm twin-wall polycarbonate roof panels and 6 mm twin wall side panels which block harmful UV rays and diffuse over 80% of the sunlight for a soft, even light.
Features
Virtually unbreakable, high impact and hail resistant twin-wall polycarbonate panels, 4 mm at the roof and 6 mm at walls
Light diffusing panels protect from strong sunlight exposure, provide 80% light transmission
Panels block harmful UV rays and are 100% UV protected; do not discolour, fracture or shatter
Heavy duty 100% UV protected resin frame
Easy DIY installation – pin & lock connector assembly
Single hinged door can be assembled as either right or left hand door
Adjustable vent window included for air circulation to balance humidity and temperature levels
Door catch included to keep the greenhouse open
Barn shape and Maintenance free design
Specifications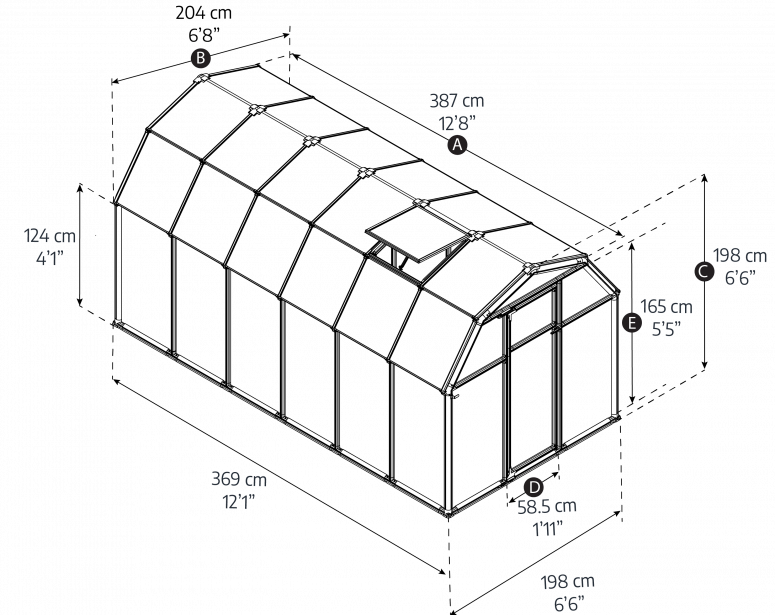 Length 387cm 12'8″ft
Width 204cm 6'8″ft
Height 198cm 6'6″ft
Door Width 58.5cm 1'11″ft
Door Height 165cm 5'5″ft
Polycarbonate Glazing
The ECO GROW features Twin Wall Glazing!
Note: The greenhouse comes with base rail and not a floor.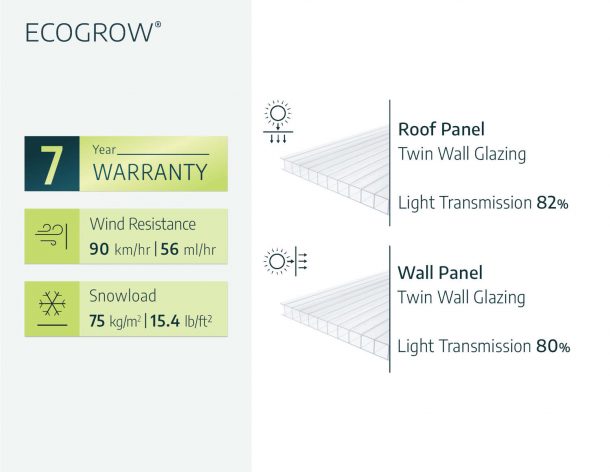 OPTIONAL EXTRAS FOR THE PALRAM GREENHOUSES
Optional Extras for the Palarm Greenhouses can be found here.
BASES FOR GREENHOUSES
By far the most practical and durable foundation for any greenhouse is a solid concrete base. A good option for large greenhouses and can be set above ground level quite easily. It can be very easily maintained and kept clean and tidy with a broom, washed down when needed with detergent.
SHEDMASTER recommends that your greenhouse is built on a solid concrete base that is flat and level.
Alternatively the greenhouse can be built upon Breeze blocks that make an ideal solid perimeter for greenhouses.
It can be anchored to a foundation, depending on the greenhouse, some have compatible holes at the bottom of the greenhouse base, and some have their own integrated anchoring. The greenhouse can be anchored to concrete slab. It can be anchored directly to the ground using ground stakes (ground stakes are not supplied with the greenhouse kits). *Firmly connect the product to a level surface immediately after completion of the assembly. Anchoring this product to the ground is essential to its stability and rigidity. It is required to complete this stage in order for your warranty to be valid.
INSTALLATION SERVICES
SHEDMASTER recommends that your greenhouse is built on a solid concrete base that is flat and level.
SHEDMASTER will install your greenhouse upon your existing concrete base. SHEDMASTER does not install or erect bases for greenhouses.
TWIN WALL GLAZING