Description
One of Palram-Canopia's most popular designs, the Palram 6×4 Harmony Greenhouse – Green combines a smart, clean, classic design with a sturdy and functioning structure, ensuring an easy to assemble and maintain greenhouse.
The Harmony greenhouse kit is a beautiful entry into the world of hobby gardening.
The greenhouse wall and roof panels are made of a nearly unbreakable polymer called polycarbonate that has the light transmission benefits of glass, but is lighter, stronger, and safer. The crystal-clear single panel roof and walls protect your plants from UV rays while providing all the full, direct light they need to thrive. This is especially ideal for germinating seeds and starting plants to heat up the soil and encourage germination.
The hobby greenhouse frame is made of rust-resistant aluminium mounted on a heavy-duty galvanized steel base for ultra-durable structural support. Other features include an integrated rain gutter to disperse the rainwater, a roof vent, and a lockable hinged door with a magnetic catch to help control temperature and humidity. The unique sliding panel system creates better insulation, stronger resistance to wind, and makes it easier to assemble than other DIY Greenhouses.
With this backyard greenhouse, you can prolong your growing season by starting in the early spring and extending your plant growth beyond the first fall frost.
This is constructed from a rust-resistant aluminium frame and clear, UV protected polycarbonate panels, which are both virtually unbreakable and do not opacify over time.
Perfect as either an entry-level or high-end greenhouse, this is supplied with a 5 year limited manufacturer's warranty.
Features
Highly resistant, fully transparent, and safe polycarbonate greenhouse (with Fine Shield Technology™)
Provides up to 100% protection from harmful sun rays (UV)
Life-time resilient polycarbonate plastic walls; do not fracture, turn yellow or opacify over time
Non-rusting, robust aluminum structure
Classic, and functional design, specially developed for optimal use of interior space
Built-to-last thanks to outstandingly durable materials
Maintenance-free
Protects your plants from the elements so that you can enjoy an extended growing period.
Locking mechanism – Lockable door handle
Comprehensive fitting instructions provided with this product
0.7 mm thick glazed walls
Specifications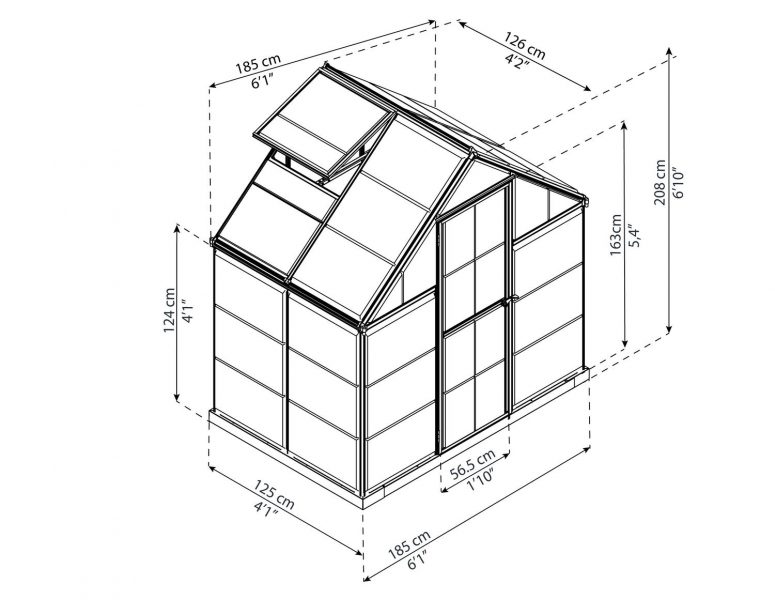 Length 126cm 4'2″ft
Width 185cm 6'1″ft
Height 208cm 6'10″ft
Door Width 56.5cm 1'10″ft
Door Height 163cm 5'4″ft
Polycarbonate Glazing
The Harmony range features clear glazing!
Note: The greenhouse comes with base rail and not a floor.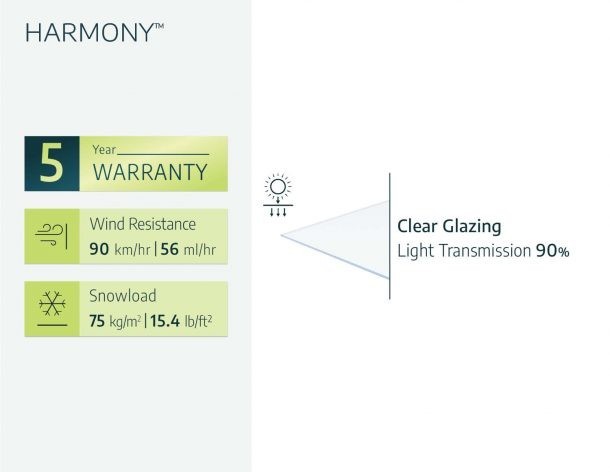 OPTIONAL EXTRAS FOR THE PALRAM GREENHOUSES
Optional Extras for the Palarm Greenhouses can be found here.
BASES FOR GREENHOUSES
By far the most practical and durable foundation for any greenhouse is a solid concrete base. A good option for large greenhouses and can be set above ground level quite easily. It can be very easily maintained and kept clean and tidy with a broom, washed down when needed with detergent.
SHEDMASTER recommends that your greenhouse is built on a solid concrete base that is flat and level.
Alternatively the greenhouse can be built upon Breeze blocks that make an ideal solid perimeter for greenhouses.
It can be anchored to a foundation, depending on the greenhouse, some have compatible holes at the bottom of the greenhouse base, and some have their own integrated anchoring. The greenhouse can be anchored to concrete slab. It can be anchored directly to the ground using ground stakes (ground stakes are not supplied with the greenhouse kits). *Firmly connect the product to a level surface immediately after completion of the assembly. Anchoring this product to the ground is essential to its stability and rigidity. It is required to complete this stage in order for your warranty to be valid.
INSTALLATION SERVICES
SHEDMASTER recommends that your greenhouse is built on a solid concrete base that is flat and level.
SHEDMASTER will install your greenhouse upon your existing concrete base. SHEDMASTER does not install or erect bases for greenhouses.
GLAZING TYPES FOR PALRAM