Description
The Palram 8×12 Glory Greenhouse Grey – (Twin Wall Glazing) is the perfect garden building to add to your outdoor space for giving your plants a place to thrive and grow.
Built with highly resistant, reinforced polycarbonate panelling, this greenhouse is built to last and will give you years of outdoor use. The heavy-duty multi-wall glazing construction helps to control light exposure and is insulated to keep heat inside creating a plant nurturing environment. It also helps to diffuse sunlight and remove 100% of harmful UV sun rays.
A reinforced, extra-thick rustproof aluminium frame gives this building a stability able to withstand harsh winters and extreme weather conditions. This along with the polycarbonate panels, which are resistant against discolouration and becoming brittle over time, create a building that is designed for longevity.
The Palram Glory Greenhouse provides you with ideal conditions for an enjoyable and fruitful gardening. Wide entrance door and included accessories create optimal ventilation and help you maintain the required moisture and temperature levels. The high roof and tall eaves provide plenty of headroom, and more space to garden and trellis tall and leafy plants.
The extra thick aluminium frame, with the included galvanised, rust-resistant perimeter steel base add height, structural support, stability & alignment. It is aesthetically pleasing and elegant with its grey powder coated robust aluminium frame. This glorious greenhouse is designed and built to last.
Give your plants a stable and regulated environment in which to thrive and get consistent growing results each year.
Features
Highly resistant, reinforced, translucent, and safe polycarbonate greenhouse kit
Entirely built with heavy-duty multi-wall glazing for controlled light exposure and heat insulation
Allows maintaining level temperatures and diffuses sunlight
Provides up to 100% protection from harmful sun rays (UV)
Life-time resilient polycarbonate plastic walls; do not turn yellow or become brittle over time
Reinforced, extra-thick non-rusting aluminum structure to withstand harsh weather conditions
The high roof provides plenty of headroom and more space to garden and trellis tall and leafy plants
House-like, classic design, upgraded with fine matt, dark-grey powder-coated aluminum frame
Built-to-last thanks to outstandingly durable materials
Maintenance-free greenhouse
Protects your plants from the elements so that you can enjoy an extended growing period.
Accessories Included
2 x roof vents,
2 x automatic vent openers,
1 x side louvre window,
1 x plant hangers' kit,
Anchoring Kit
Specifications
Length 364cm 11'11″ft
Width 253cm 8'4″ft
Height 268.5cm 8'9″ft
Door width 80cm 2'7″ft
Door height 188cm 6'2″ft
Polycarbonate Glazing
The GLORY range features Twin Wall Glazing!
Note: The greenhouse comes with base rail and not a floor.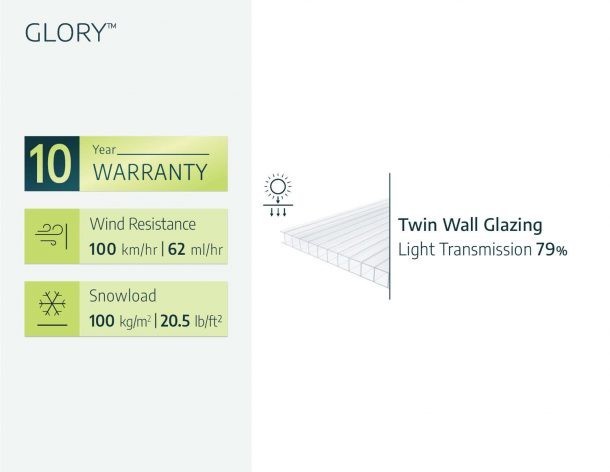 OPTIONAL EXTRAS FOR THE PALRAM GREENHOUSES
Optional Extras for the Palarm Greenhouses can be found here.
BASES FOR GREENHOUSES
By far the most practical and durable foundation for any greenhouse is a solid concrete base. A good option for large greenhouses and can be set above ground level quite easily. It can be very easily maintained and kept clean and tidy with a broom, washed down when needed with detergent.
SHEDMASTER recommends that your greenhouse is built on a solid concrete base that is flat and level.
Alternatively the greenhouse can be built upon Breeze blocks that make an ideal solid perimeter for greenhouses.
It can be anchored to a foundation, depending on the greenhouse, some have compatible holes at the bottom of the greenhouse base, and some have their own integrated anchoring. The greenhouse can be anchored to concrete slab. It can be anchored directly to the ground using ground stakes (ground stakes are not supplied with the greenhouse kits). *Firmly connect the product to a level surface immediately after completion of the assembly. Anchoring this product to the ground is essential to its stability and rigidity. It is required to complete this stage in order for your warranty to be valid.
INSTALLATION SERVICES
SHEDMASTER recommends that your greenhouse is built on a solid concrete base that is flat and level.
SHEDMASTER will install your greenhouse upon your existing concrete base. SHEDMASTER does not install or erect bases for greenhouses.
TWIN WALL GLAZING