Description
The Palram 8×16 Gardener Clear Greenhouse Green – (Hybrid Glazing)  features 2 kinds of virtually unbreakable polycarbonate panels to give you the best of both worlds. Crystal-clear polycarbonate side walls allow clear views while being ultra-safe. While the twin-wall roof panels diffuse over 70% of sunlight for a soft, even light. The robust, UV protected resin frame of the Grand Gardener also features simplified assembly with the pin and lock system.
The emphasis on greenhouse safety is evident from the heavy-duty frame to the extremely safe polycarbonate panels. The sturdy, weather-resistant and UV-protected extruded resin frame with its aluminum roof profiles improves both full-insulation and durability. The diffused roof panels are made of 4mm twin-wall polycarbonate, which allows the light to reach your plants at all angles for more even sunlight and growth while preventing plant burn. The side panels are translucent polycarbonate, providing over 90% light transmission while blocking harmful UV rays.
The attention to detail continues through the greenhouse design of the roof which provides ample headroom and more space to the garden to the double doors that make it easy to go in and out, even with large trays of plants. There is also excellent ventilation due to the roof vent, which provides airflow and retains heat when the doors are closed.
The heavy duty extruded resin frame with its additional aluminium roof profiles improves both insulation and durability. The roof's design provides ample headroom and gives you more space to garden. Double doors allow easy access and provide excellent ventilation. Included roof vent provides a heat vent even when the doors are closed. No-tool assembly makes the  Grand Gardener perfect for the growing enthusiast's needs.
Features
Extra-large, highly resistant, no-tool assembly, safe polycarbonate greenhouse
An extra-high ceiling provides an extremely comfortable working environment inside the greenhouse.
Built with heavy-duty multi-wall glazing for controlled light exposure and greater insulation
Allows maintaining level temperatures and diffuse sunlight
Provides up to 100% protection from harmful sun rays (UV)
Life-time resilient polycarbonate plastic walls; do not fracture, turn yellow or opacify over time.
Easy-to-assemble, DIY greenhouse, sturdy UV protected resin frame, held together with 'Pin & Lock' resin connectors.
Stylish, classic barn shape design, developed for optimal use of the interior space
Built-to-last thanks to outstandingly durable materials
Maintenance-free greenhouse
Protects your plants from the elements so that you can enjoy an extended growing period.
Specifications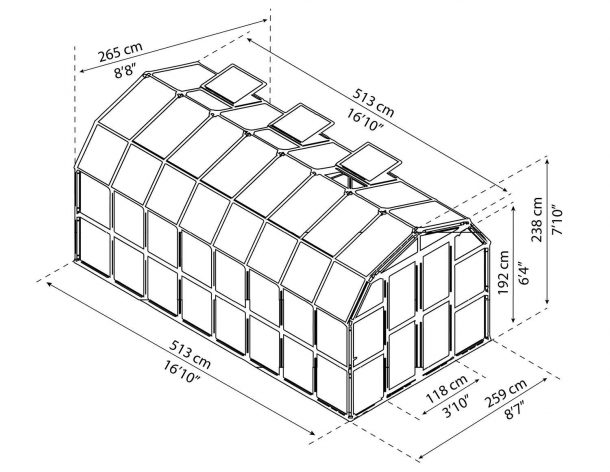 Length 513cm 16'10″ft
Width 265cm 8'8″ft
Height 238cm 7'10″ft
Door Width 118cm 3'10″ft
Door Height 192cm 6'4″ft
Polycarbonate Glazing
The GARDENER range features Hybrid Glazing!
Note: The greenhouse comes with base rail and not a floor.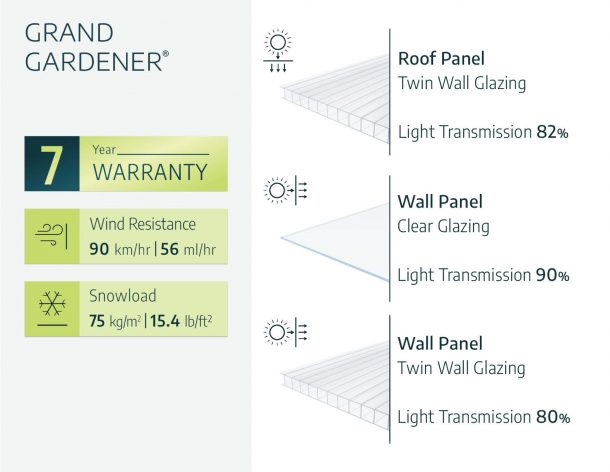 OPTIONAL EXTRAS FOR THE PALRAM GREENHOUSES
Optional Extras for the Palarm Greenhouses can be found here.
BASES FOR GREENHOUSES
By far the most practical and durable foundation for any greenhouse is a solid concrete base. A good option for large greenhouses and can be set above ground level quite easily. It can be very easily maintained and kept clean and tidy with a broom, washed down when needed with detergent.
SHEDMASTER recommends that your greenhouse is built on a solid concrete base that is flat and level.
Alternatively the greenhouse can be built upon Breeze blocks that make an ideal solid perimeter for greenhouses.
It can be anchored to a foundation, depending on the greenhouse, some have compatible holes at the bottom of the greenhouse base, and some have their own integrated anchoring. The greenhouse can be anchored to concrete slab. It can be anchored directly to the ground using ground stakes (ground stakes are not supplied with the greenhouse kits). *Firmly connect the product to a level surface immediately after completion of the assembly. Anchoring this product to the ground is essential to its stability and rigidity. It is required to complete this stage in order for your warranty to be valid.
INSTALLATION SERVICES
SHEDMASTER recommends that your greenhouse is built on a solid concrete base that is flat and level.
SHEDMASTER will install your greenhouse upon your existing concrete base. SHEDMASTER does not install or erect bases for greenhouses.
HYRBID GLAZING